Harley Davidson motorcycles are some of the most popular bikes on the road. People love them for their customization capabilities and their ability to look great while riding.
With all of these things in mind, we'll explore why you should get ape hangers for your Road Glide. We'll also talk about the benefits and features that come with getting a new pair of ape hangers and who might need them!
Best Ape Hangers for Road Glide
These bars provide the ultimate comfort while riding for motorcycle riders; let's take a closer look at the many ape hangers available for your Road Glide.
We'll also go through the benefits and features of buying a new set of ape hangers!
1. XFMT Chrome 1 1/4″ 14″ Rise Ape Hanger
XFMT is a manufacturer and exporter that focuses on the design, development, and production of high-quality motorcycle components, accessories, protection gear, and so on.
Ape Hangers manufactured under this brand are of high-quality and durable iron with a well-crafted design and black finish.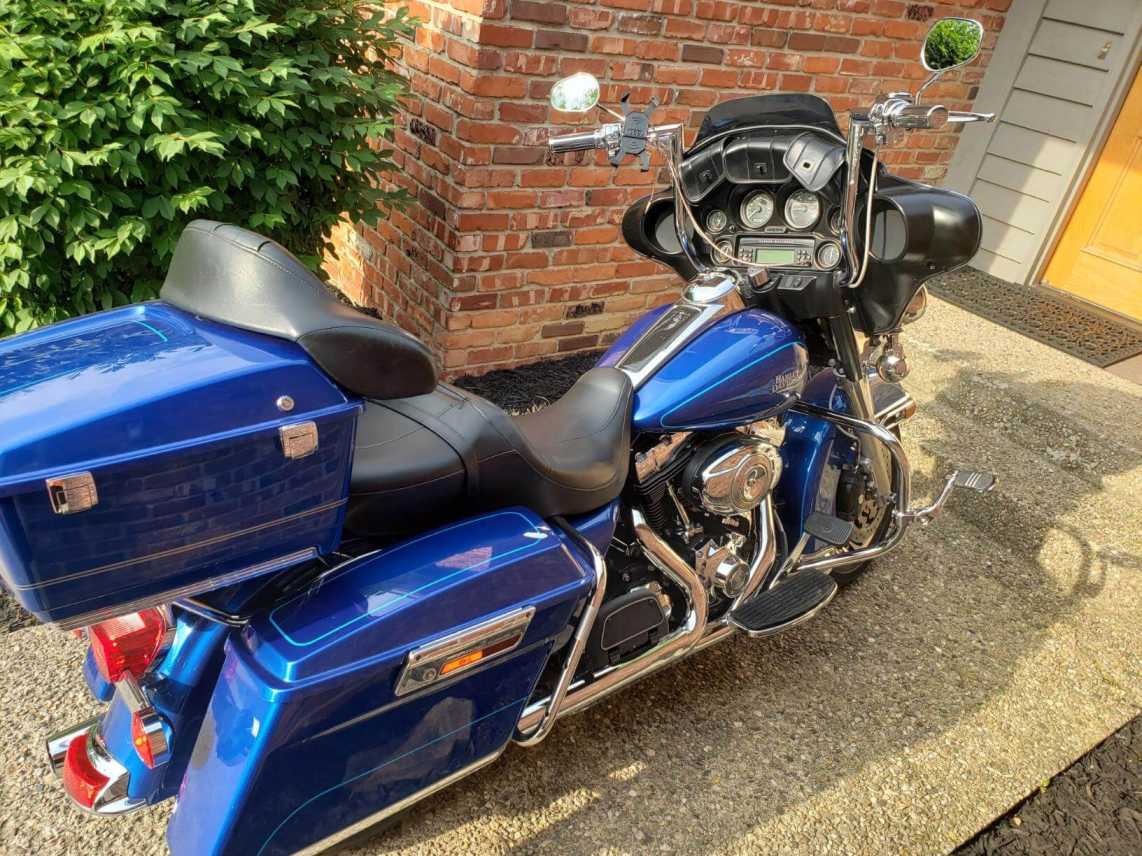 The rise handlebar is 14inches in length and has a 1 1/4″ diameter. The center section and tips taper to 1″, allowing normal handlebar controls to fit 34-1/2″ "wide from tip to tip.
Additionally, the ape hanger comes with drilled wire holes that make it extremely simple and quick to install.
There is no constraint to the models either as this ape hanger fits all Harley-Davidson FLST, FXST, Sportster XL models, including throttle-by-wire variants, as well as any custom application.
PROs & CONs
Pros
It has a well-crafted design with good polish and a fashionable look.
These Ape Hangers are easy to install and use
They fit all Harley Davidson models
Cons
Feeding the wires through is quite challenging due to their sharp edges
2. Dominator Industries Monkey Bar Ape Hangers (12 inches)
Dominator Cycles is a brand known for producing high-quality handlebars. Dominator will be a partner that you and your bike can rely on for the years to come, with a guarantee of Five Star Customer Service, Customized Products, and a Limited Lifetime Warranty.
This 1 1/4″ PRE-WIRED 12″ Miter Monkey Bar Ape is designed to work with all of the stock cables and controls for Harley-Davidson Street Glide, Electra Glide, Ultra Limited, Special, and Low model years from 2014 to 2021.
These bars are prewired with your control harnesses and are ready to use. They are configured to pull your current twist grip sensor in a matter of minutes! Considering these factors, installing the wires is extremely quick and hassle-free.
Moreover, the internal wire pulling is easier too with the wires being fully TIG welded, bevelled and deburred. The looks and appearance of these ape hangers is also amazing with the wires polished well to a high shine.
PROs & CONs
Pros
Nice sturdy knurling Clean
Clean, non-razor sharp edges
Pre-wired and well-configured for easy, quick, and hassle-free installation
Comes with a detailed instruction manual to make installation and setup easier
Cons
Treading the throttle cable through the handlebar takes a long time
Wiring is a little tricky
3. WSays Black 12″ Rise Ape Hangers Handlebar
Although not compatible and suitable for all Harley models, WSays Black 12" Rise Ape Hanger is still a good choice for you to consider considering that it's extremely strong and durable in its build material and design.
The ape hanger is crafted using a strong material which is an alloy of copper, nickel, and powder-coated gloss. Additionally, the material has a standard rust-proof coating which makes it tolerant to wear and tear and other damages.
Besides that, a steel pipe is used for this ape hanger which is much stronger and durable in comparison with other straight seam welded pipes.
The length and diameter of the bar are also pretty good. It's 14inches in length with a diameter of 1-1/4 inches.
Additionally, other measurements of the bar for pullback, clamp area, and grip area are also pretty good and ideal.
The Pullback/Sweep is 8 inch; the Clamp Area Width and Diameter is 5.4 inches and 1 inch respectively; the Center Width is 10-1/2 inch, and the Grip Area Bar Diameter is 1 inch. All these measurements bring the overall width of the ape hanger to 35.5 inches.
Besides that, the Monkey Bagger Bar variant of this ape hanger even comes with wire holes that are pre-drilled for quick installation, providing you with a fantastic driving experience.
PROs & CONs
Pros
Quality crafted bars that are comfortable
Affordable & budget-friendly
Very strong, well-made, and well finished and looks beautiful on the bike
Cons
The cables are challenging to run
A large number of spurs and bits of metal must be cleaned
4. Burly B28-348 Apehanger Handlebar
Burly's model B28-348 is a narrow bottom ape hanger built for narrow glide HD front ends, with all Sportsters and numerous Dyna models included.
The ape hangers have an excellent and stylish build quality with the use of a high-quality steel tubes. Additionally, the ape hanger is slotted and drilled so that the internal wiring becomes easier and more accessible.
The design of the ape hanger is further enhanced with a narrow-centered and tapered design and the final polish ends up giving the handle bars a black and chrome finish that looks extremely classic and stylish.
Besides that these handles have very ideal measurements that make them very quick and easy to install. However, you might want to be careful about roughing up the metal before installing these ape hangers.
The bars are not knurled deeply enough, so if the metal is not roughed up with the metal engraver before installation, the handlebars might slip.
So, that comes as a bit of a careful precaution, other than that, it's sleek, simple, and easy to install, set up, and use.
PROs & CONs
Pros
The notch and pre-drill help you run the cables inside, which looks great
Handlebars are excellent, well-made, and stylish
They are pretty comfy and are of high quality, and make installation simple
Cons
The matching cable kit is a bit lengthy
5. Green-L Black 14″ Rise Fat Ape Hangers Handlebar
Green-Black L's 14″ Rise Fat Ape Hangers Handlebars are designed for Harley Softail FLST, FXST, Sportster XL, including throttle-by-wire versions. Additionally, they are useful for custom applications as well.
With FMB Choppers' original design, these ape hangers are exceptionally good with a sturdy design and strong build. Talking of the design, every measurement of this ape hanger is ideally perfect.
The center section and tips taper to 1″ to accommodate normal handlebar controls. They are also knurled 4.5″ center to center which ensures that the handle bars don't slip after installation. Also, the installation is made simpler with pre-drilling for faster wiring.
The handles are also extremely durable with amazing tubing that's thick and welded. Moreover, these tubes are powder-coated with a glossy or satin black finish that gives them their final look and makes the ape hangers look very beautiful, stylish, and fashionable.
Not only that, they have multiple size options to choose from and with the high-level of compatibility for all Harley models and even custom applications, there's no limit to their usage.
However, even with that level of compatibility and extraordinary fit, these ape hangers are more suited for motorcycles without ferns considering the fact that the brake reservoir is excessively tight for these bars.
Nonetheless, the fit is ideal and you can feel and experience an unrivaled level of comfort which indeed makes these ape hangers a good choice.
PROs & CONs
Pros
Exceptional quality with a sturdy and comfortable build and fit
Compatible with many models and custom applications as well
Multiple rise options to choose from
These bars have a great appearance and feel to them
Cons
Dimensions might be a little wrong, so double-check your measurements and inquire if the issue persists
6. Road 6 Customs Glide Standard Ape
With a fresh take on the traditional ape hangers, these handlebars focus more on touring comfort. They have a different design with more parallel wrist angles for an ideal pullback angle and stress-free riding.
Moreover, these ape hangers are specifically designed for batwing baggers which is clear from the fact that they have flowing bends on the uprights, mitered top, and a typical two bend bottom.
Besides that, they are drilled for internal wiring that makes these ape hangers easy and quick to install. Adding up to all of this is the sturdy design with a gloss black powder finish that makes the ape hangers look shiny, stylish, and fashionable.
The only possible issue with these ape hangers can be the availability of the bolts. The bushing kit requires 2.25″ long bolts, which are difficult to come by because all box stores and auto shops supply 2″ or 2.5″ long bolts. So, you might want to check on that.
PROs & CONs
Pros
These Ape Hangers are ideal for the 2016 SG
The setup is much easier due to a lot of slack within the fairing
The stock brake and clutch cables fit perfectly
Cons
It's difficult to find the bolts for these ape hangers
7. LA CHOPPERS LA-7361-10B Ape Hanger Handlebar
These handlebars are available in two finishes: chrome and gloss black. Internal wiring is diamond-knurled and machined. Stock controls and a handlebar clamp are okay and specifically designed for electronic throttle control applications
Moving on to the measurements and size, the Bagger Ape Hanger handlebars measure 1.25″ in diameter. They are 12-inch black handlebars with 3.5-inch risers designed for 2008-2015 Harley-Davidson bikes.
They also feature slotted grips with the right side flattened for master cylinder clearance and notched for ETC. When installing bars with a center elliptical slot on pre-2008 baggers, a one-piece upper riser clamp must be utilized.
Because there are no sharp curves or corners in the bars, wiring the internal controls is simple. These are a nice pair of bespoke ape hangers for Baggers.
PROs & CONs
Pros
Quick, easy, and simple to wire internal controls
Have a decent fit
Excellent value for your money
Cons
You may have some troubles with the right bar if it is not sufficiently dented for proper master cylinder fit
Conclusion
While ape hangers make the rider seem great, they also improve the riding experience for people who suffer from back problems. However, with so many manufacturers on the market, selecting the best ape hanger may be challenging.
So, which one is the best ape hanger for your bike may be chosen by carefully evaluating the product's specifications, cost, quality and durability, and so on.
Every model has its benefits and downsides. When deciding on your optimal height, keep the following considerations in mind.
First of all, take note of your riding style. If you have back pain, installing ape hangers will be a boon for you, and products like XFMT Chrome 1 1/4″ 14″ Rise Ape Hanger and Dominator Industries Monkey Bar Ape Hangers (12 inches) can be great because they're made of high-quality, long-lasting iron and are always in working condition and easy to install, giving you the perfect comfort you need while driving.
Also, if you're concerned with pricing, the quality of the ape hangers is usually proportional to their price. The higher the price of a thing, the higher it's quality. Set a budget and compare hangers of various brands and styles to get the ideal one for you.
At the same time, there are certain items that will fit right into your budget while providing you with the most benefits, such as the product from WSays Black. Their 12″ Rise Ape Hangers Handlebar will meet your budget properly. So keep an eye out!
What Are Ape Hanger Handlebars?
Ape hanger handlebars got their name from what they look like: two oversized bars coming straight out from the motorcycle. They resemble monkey arms hanging down; hence, 'ape' hangers or monkey bars.
These types of handlebars originated when people installed them on choppers back in the 1960s. Once riders get used to the width, they are good to go!
These bars provide riders with a comfortable position while riding. People often experience back pain after 10 or more minutes on a bike without ape hangers.
Wide handlebars put people in a semi-aggressive posture that is just perfect for long rides. They also allow people to lean forward comfortably while cruising at high speeds or downshifting coming off of highways.
What Are the Benefits of Ape Hanger Handlebars?
Ape hanger handlebars let you ride for significantly longer periods of time than you would if your were using other types of grips. You can install these bars on any type of motorcycle including choppers, sport bikes and cruisers.
Aside from back pain relief, there are many other benefits associated with ape hanger handlebars. These include:
Being able to utilize your chest muscles to help stabilize yourself when riding
Comfortability while cruising at high speeds Increased wind flow which cools you down in warm weather conditions
More maneuverability when in crowded spaces
The ability for riders to shift around more easily
Allowing shorter people the ability to comfortably ride bikes that they otherwise could not because of their size
Being able to control motorcycles better when riding off-road Having greater lean angles (important for performing stunts)
Providing an upgraded look and feel
What Is A Good Pair of Ape Hanger Handlebars?
A great pair of ape hangers should be strong enough so that they will not bend under your weight. Width-wise, they should be around seven inches on each side.
If you are buying a new aftermarket pair of bars, make sure that the measurements match up with your motorcycle's specifications.
You should look for bars made out of strong metals such as steel or aluminum. Many people decide to invest in stainless steel ape handlebars because it is lightweight and rustproof, unlike some other metals.
Others prefer bars that are chrome plated because they give motorcycles a more sleek appearance. That being said, you might need to apply wax or polish more often if you do go this route.
We've previously discussed how ape hanger handlebars help riders ride longer and better by relieving back pain and providing stability while riding at high speeds.
It is important to keep in mind that ape hanger handlebars should not be installed on bikes that are too old or weak because they might cause the entire vehicle to topple over and fail catastrophically.
Be sure that your Harley Davidson motorcycle can support the weight before you spend hundreds of dollars on a pair of new bars!
Who Might Need Ape Hanger Handlebars?
People looking for a more comfortable ride, people who want to perform stuns, people who tend to get nauseous while riding and shorter riders will all benefit from getting this type of grip.
Many bikers also find it helpful for their waistline as well as making them feel better about themselves when riding.
While some bikers view ape hangers as a phallic symbol, they do not need to feel that way. There is no reason why everyone should not invest in this type of product if they can afford it!
If you are looking for a comfy ride and love to look stylish when cruising down the road, ape hanger handlebars may be your best bet.
They provide so much more than just an increase in comfortability; these bars also allow people to perform stunts, utilize chest muscles when riding, and control their motorcycle better in crowded spaces.
If you've been thinking about getting some new aftermarket grips, we definitely recommend buying ape hangers! Happy Cruising!
Is it harder to ride with ape hangers?
Ape hangers are a staple of the motorcycle industry for many years. They are one of the most popular modifications to a motorcycle and are used in a variety of styles-chopper, bobber, lowrider, and so on.
Thumbs up by Steve McQueen, Marlon Brando, and Sonny Barger have contributed to their popularity! Many riders swear that ape hangers give them improved control over their bikes through corners.
But is it harder to ride with ape hangers? This article will explore some pros and cons of having this modification made to your Harley!
One problem with riding around with ape hangers installed is that it can be hard on your hands. You'll feel pain after just 30 minutes or so if you're gripping the ape bars all the time.
You'll also have a hard time shifting gears since they're so far away from you. For this reason, some riders switch them out for mid-controls when riding long distances.
Since they are high up, it can be hard to spot potholes and curbs that you would normally see before hitting them with standard stock handlebars.
If your ape hangers aren't installed correctly they can even be dangerous if the grip rotates in any direction while going over bumps at high speeds!
It's best to avoid using a clutch with these bars because a loss of control could result in an accident or collision with another vehicle or object.
While on flat level ground it is easier to ride with ape hangers, it becomes a real problem when going up or down hills or even just pulling out from a stop sign.
Installing the bars took less than an hour for most riders but if you're inexperienced at motorcycle modifications, get help from someone who is!
Some bikers opt for mid-controls or manufacturers make them specifically for ape hanger conversions. These bars are mounted above the front wheel and provide a more comfortable experience for riders who don't want to go overboard on a custom build.
Whether you choose mid-controls or keep your stock ones, you can still add style and comfort to your Harley Davidson motorcycle while riding around town with some fun accessories like ape hanger grips.
They'll keep your hands in the right place and allow you to switch things up when you're feeling bored!
How do you choose Ape Hangers for your Harley Davidson motorcycle?
Ape hangers are a great choice for any motorcycle that has a relatively wide stance. These motorcycle parts have been around since the early days of Harley Davidson bikes, and they were first used by daredevil riders who wanted to stand out from the crowd.
By standing on the bars, these riders could increase their visibility for other cars on the road – or so they thought!
An early example of ape hangers A modern-day ape hanger is designed to give you more comfort when cruising down country roads on your Harley Davidson motorcycle.
They will give you greater control and stability as well as help you with your aerodynamics and center gravity. If you're trying to choose replacement parts for your bike, here's how to pick out a set of ape hangers that will work best for you.
Types of Harley Davidson ape hanger bars
There are a few different types of parts to choose from when it comes to finding the right motorcycle handlebars.
It's important for you as an individual rider to do some research on each type and decide which ones will be best for your bike and how they'll fit into your riding style.
There are pros and cons for everything out there, so read carefully and think through what makes sense before making any purchases!
Standard Ape Hanger Bars – The most common type of replacement motorcycle bars. These offer the most versatility since they can be used with most stock or aftermarket seats and bikes. This set up is usually the easiest one to find a height and width that works for your needs.
3 Inch Ape Hanger Bars – If you want to ride with the most comfort, this is often considered as one of the best choices.
These bars have been around for over 100 years and come from motorcycles being designed so you can lean forward – a popular design in the late 1800s.
These are a good choice if you're looking for a low handlebar or especially wide bars, but they will limit your lean angle somewhat due to their length.
4 Inch Riser Bar – This bar has more rise than stock, but also less pullback than some other varieties out there. Harley Davidson bikes originally came with riser bars, but most riders prefer the ape hanger style these days.
Low Riser Bars – This type of motorcycle handlebar design offers more height than your average bear, which gives you an overall lower center gravity for better stability on your ride.
If you're looking to go with a low riding position or want to reduce neck and back strain during long rides, this might be the best choice.
Harley Davidson Ape Hanger Bars – 5 Tips for Choosing
If you're outfitting your bike with new bars, make sure to pay attention to what will work best for your needs! Here are some extra tips that can help guide you towards choosing the right replacement parts for Harley Davidson:
Consider how you'll be riding your motorcycle. If you're in the dirt a lot or ride off-road, there are different options for this type of riding than if you plan to stick to highways and streets.
Harley bars come in different heights, widths, and rise variations so make sure to choose one that works for your needs. A good rule of thumb is the wider your bars are, the more stable they will be when cruising down the road – but make sure not to go too wide because it could obstruct the controls on your bike!
The higher your handlebars are, the better a view of traffic you'll have on the road which can also help with safety. However, depending on where you live, it could be illegal to drive with these bars so always check before buying parts.
Decide whether or not you want to upgrade your bike with ape hanger handlebars. These are way more than just motorcycle accessories – they are an investment in comfort and customization for cruiser riders.
If you're looking for a simple product to make your ride look better without too much fuss, there are other options available!
Research the best place to purchase replacement parts for Harley Davidson bikes. You can find lots of online stores that sell motorcycle handlebars at cheap prices, but be careful about purchasing from sites outside of the United States because it's illegal to ship some types of bars into certain countries!
If you're not sure what type of bars you want, try out some different motorcycle handlebar options before making any purchases. You can typically find an open box or used parts at a reasonable price so it won't cost too much if your experiment ends up being a fail!
Harley Davidson Motorcycles are comfort machines meant to be ridden on long stretches of highway and around the city streets.
Big bike riders love the sound these engines make as they roar down the road – but that also means they need bigger bars to hold onto while riding!
Before considering new bars for your Harley Davidson, consider all available safety measures. It's illegal to drive most types of high bars in some regions because create an unsafe environment. A warranty is useless if you cannot use it to ride your motorcycle!
Motorcycle bars are an investment in comfort, but also safety. Choose the right parts for your Harley Davidson so you can look stylish while staying safe on the road!
Is it illegal to have ape hangers?
No, it is not illegal to have ape hangers. It is only illegal when a car's mirror hits a cyclist or in rare cases when hitting a pedestrian.
This is because the driver starts an inattentive driving event and must fully assume responsibility for any follow-up collisions until safely stopped.
A second offense can lead to four points on the driver's license and/or up to six months of imprisonment if the damage was reckless rather than just careless. A third offense will get you twelve points and possible imprisonment.
So it could be argued that ape hangers are fine because they're mostly harmless unless someone else gets hurt by your negligence behind the wheel or you think hanging out of your van while parked on double yellow lines makes you look like less of a dick.