So, you are customizing or building your dirt bike, and now looking for a speedometer? There can be various reasons for buying a new dirt bike speedometer, but which one is the best and why.
We have handpicked and tested some of the great and trusted dirt bike speedometers and after testing each of them for at least two months, here are my thoughts on which one you should go for.
Speed. The adrenaline rush you feel when you look at the speedometer needle reaching the red-shaded maximum limit is otherworldly.
The invention of the speedometer gave the odometer to a company that had been long since lonely. Now, both in combination are produced to save space and provide relative relation between the speed and distance of the dirt bike.
Here are some of the Best Dirt Bike Speedometers you can choose from:
1. Trail Tech 202-111 Digital Speedometer
It is the smallest and the simplest dirt bike speedometer. Hence, it fits into all basic and famous dirt bike models like Honda, Yamaha, Kawasaki, etc.
With measurements in tiny inches and less than a pound, the smallest dirt bike speedometer title is apt. Trail Tech should pat themselves for such a power-packed apparatus.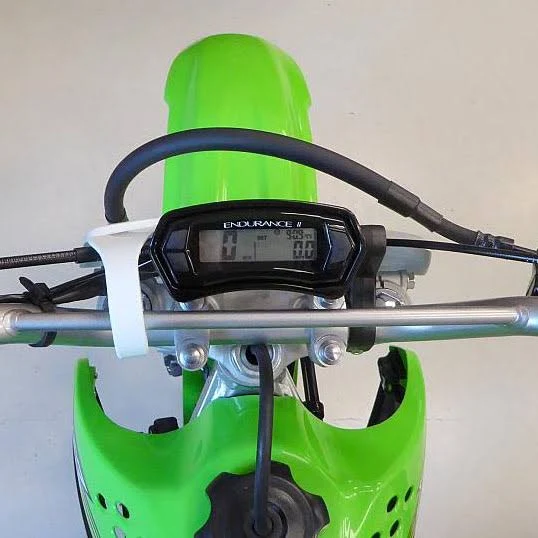 The exterior is painted after manufacturing, and the cover includes a digital gauge, wheel sensor, mounting, and power lead. Managing to include all such extraordinary features in such a small speedometer is indeed challenging.
Possessing a not-so-complex gauge, it is entirely replaceable, either for the same model as itself or another speedometer of similar dimensions. And when I say altogether replaceable, I mean the whole instrument cluster with all its connections.
Display features are – speed, both maximum and average, two-trip distance tracker, an odometer, ride time; for the current trip and the accumulated since the beginning of its use, and finally, a clock.
A machine does need servicing or maintenance every few days, depending upon its usage. Therefore you have the option of setting up a maintenance reminder with sub-options of either ride time or mileage driven.
Do you not want to go to a mechanic to install a simple speedometer? No worries. Easy installation is your way. Simply follow the manual instructions to a tee, and you are sure to have a smooth installation ride.
Note: This doesn't have its own battery; you have to connect it to the motorcycle's battery.
2. Trail Tech 752-119 Black Vapor Speedometer
The trapezium-shaped, a little over a pound weighing speedometer is a classic selection of high-end dirt bike manufacturing companies, including Suzuki. The best among all with its impressive specs is precisely its USP.
Another powerhouse from Trail Tech is bound to whip you with its mesmerizing features. They include a large RPM graph, speed displayer, and LED lights that blink, indicating two conditions: when the dirt bike is overheated and the other when you shift gears.
Besides the above unconventional exhibits, it also shows the basic specs – distance, clock, odometer, tachometer, and ride time. You can wire the tach to your choice of sensitivity and light display.
Instead of concerning yourself with AC/DC for the speedometer instead, save the worrying for the AC/DC peppy song to listen to while riding full speed. Black Vapor Speedometer works on both current types.
To top it all, this bad boy comes with a built-in stopwatch for race training and endurance records. Indeed the best among all.
Note: This doesn't require it to be connected to the bike's battery; it comes with its own battery.
3. SAMDO Universal Motorcycle Speedometer
Slightly larger and heavier than the above ones, this one's a feature-loaded speedometer. The more the features, the more surface area required to display them, hence the larger dimensions.
The kit comes in its entirety. That major items of the entirety include – speed sensor mount, speed sensor cable, and magnet.
You are scratching your head every other second, not knowing where the thick black wire or the silver magnet goes into. Save your scalp the torture, and just look at the very easy-to-understand wire diagram and the simplified instructions to assemble.
However, one thing to note is that it is only usable when connected to a DC supply and not an AC. To balance this minor hiccup, the tachometer is adjustable to different wheel sizes.
Additional attributes are fuel level display, left/right indicator, water temperature, kilometers to miles switch, and RPM cable that offers two options to two-cylinder and four-cylinder dirt bikes.
An incompatibility that exists in this SAMDO Universal Motorcycle Speedometer is if you own an EFI engine, then though the RPM cable fits in, it won't function properly; but the other functions except for the mentioned work completely fine.
4. ELING Motorcycle Speedometer
Moving onto the next, this has undergone a shape transformation. With a round face, this one has lost its edges and has come back a full circle while collecting many more advanced features along its way.
Short and sweet. No too many messy wires, no head banging against the wall. All you need to do is place the speedometer into the designated hole, put the gauge, and then tighten it.
No extra sensor cables are required. It works with the GPS sensor perfectly well. The sensor has high precision and exact location capabilities.
Very colorful backlight options are available: red, blue, green, yellow, orange, white, light green, and purple—a total of eight.
Only DC compatible with a year-long warranty. Though made of plastic, it is moisture-proof: water and fog. This speedometer is a universal speedometer that can be used in different motorcycles and even in cars as well.
The multi-plug socket that arrives with the pack saves you the hassle of buying a separate one and any misfitting and mismatches. All the items are tried and tested before packaging and distribution.
5. Searon Tach Hour Meter
The manufacturing material is ABS, a type of plastic known for its endurance. The pairing of cheap and plastic has always been excellent.
All RPM features present – recall, programmability, backlight blinking, etc.; all these resettable. Combination buttons perform extra functions than their individual displays. Using those combinations of buttons, you can turn the speedometer on/off.
If the current speedometer requires a repair or is irreparable, it can be replaced, and the plus point is that you won't have to worry about the data reset that may occur.
The data retaining feature of the Searon Tach Hour Meter makes it hassle-free to do a simple replacement and continue your ride with your stored data.
A warranty of two years is guaranteed. The battery lasts for about two if left continuously on. If switched off when not in use, then naturally, the battery life span extends. This one is the smallest and most affordable speedometer that you can find for your dirt bike.
6. DKMOTORK Mechanical Motorcycle Speedometer
Stainless in nature, DKMOTORK Mechanical Motorcycle Speedometer is known for its best mechanical functioning among all other speedometers. All black, classically stylish.
The very visually appealing purple backlight clearly shows both single and entire mileage, hence its dual odometer feature. The comparison helps in monitoring your travel distances to various places.
No options for size changes. The default is easily fittable into all types of brands.
This speedometer does not show speed in mph; it is a km/h displaying device. Please check your requirements carefully before you make the final purchase.
Voltage-wise, a mere 12V works well. Also, a digital variation is available for buying, but since this one's known for its mechanical prowess, it is recommended to buy the mechanical over digital.
No calibration is needed. If your dirt bike is devoid of a speedo cable, you must purchase one separately and connect the speedometer to it.
Note: No instruction manual present. Either contact a professional or directly the product manufacturer.
Essential Things to Keep in Mind Before Buying a Speedometer
There are various points that you should keep in mind before buying a speedometer, if you don't like any of the digital speedometers from our list, then you can use these points to find the one you like.
A microscopic font that needs a magnifying glass to read is not going to cut it. A quick-to-look and note print style is mandatory.
You do not want to stop every time you wish to check the speedometer, right? Therefore a comprehensible size is of importance when buying a speedometer.
Flashy and fancy colorful lights are indeed attractive, but just sparkles are not enough. The amount of light emission from LEDs affects visibility.
Moderate light emission, just enough to read the numbers clearly, is acceptable. No missing a single zero because you were distracted with in-the-face color popping.
A speedometer experiences all kinds of seasons, from icy snow to shivering rain showers, scorching heat, to dry autumn. Hence durability is high on prioritization.
Layers and layers of taping will not work every time a new crack appears. A solid long-term holding structure and framework that bears both weight and functions well is the necessity.
Is it worth it if you spend dollars over it and end up with a toy speedometer that fails to functions after a week?
Absolutely not. Your money deserves the best destination in return, of which you benefit to the same extent.
When buying, do not solely look for features and be impressed. Look for its functionality, and how much it offers for the respective features it is promising to show.
This is a personal preference. If you are an old-school fan, then analog is your thing, and if you are one who flows with the current, then digital is your thing.
However, whether you buy analog or digital, ensure you buy an anti-fogging screen. The appearance of fog defeats the very purpose of installing a speedometer.
This includes waterproof and dustproof features too. Kill three birds with one stone.
You cannot expect a day to be forever bestowing sunlight now do you? That is just plain absurd. Then what would you do if you had to travel during nighttime? Swap with another speedometer that has backlighting?
Why go through such nuisance. All you need to do is buy a backlit speedometer from the start, so you won't have to switch it mid-ride and continue along the ride without any unnecessary interruptions.
Too complicated things are often the cause of needless confusion. The more dialed down instructions are, the easier it is to assemble and make the speedometer work efficiently.
A speedometer with a manual or instructions for assembly or even a self-explanatory wire diagram helps vastly. So, prefer a product with guidelines paper over non-guidelines paper.
How does a Speedometer work?
To save you the trouble of reading the subtopic of 'how a speedometer works?' of chapter Electromagnetism from your physics textbook, here, I have presented a simple explanation of its working.
Classification-wise, there are two forms of Speedometers: Mechanical and Electronic.
The former has seen a decline in use, while the latter has witnessed the opposite, that is, a rise in its selection, which may also be due to its ability to perform dual actions of measuring speed and distance.
Distance is measured wherever you stop (unlike mechanical), rather than only at the final destination you planned to reach.
1. Mechanical Speedometer
First things first, there are a total of six individual components that work together to make a speedometer work. They are:
Drive Shaft
Speedometer Cable
Magnet
Speed Cup
Hair Spring
Pointer of the Dial
Once the dirt bike starts moving forward, of course, the engine begins to work, and the engine working means it starts to spin.
The driveshaft, a long wire that connects the wheels to the speedometer, starts mirroring the engine's motion, meaning it spins the same as the engine. The speedometer cable in connection to the driveshaft copies the motion too.
Next in line to carry on the working is a magnet placed freely in a speed cup. Remember the driveshaft and speedometer cable are connected to the magnet and not to the speed cup.
So, as the speedometer cable turns, the magnet also turns, creating an electromagnetic field. This field produces waves or currents, which in turn cause rotation of the speed cup.
Since the speed cup begins rotation, it tries matching the same speed of rotation as the magnet. But, the hairspring, the next component, acts antagonistically to the speed cup and stops its rotating motion, resulting in only an attempt to rotate rather than the complete circle.
However, the attempt also results in the rotation of the pointer on the dial connected to it; hence the speed recorded.
2. Electronic Speedometer
Initial working is the same, followed by quite the difference, with much fewer components and even more efficiency than mechanical, a greater pro undoubtedly.
To the drive shaft, miniature magnetic are attached. These, on passing close to the very accurately place magnetic sensors, create the same electromagnetic field as in a mechanical speedometer.
But, here is where the story changes, or rather the working. The instantaneous electric circuit produced on the contact of magnet and magnetic sensors is measured for the number of times it is formed.
This is also where the dual advantage, that is, the odometer, comes into the picture. Since the number of instantaneous electric circuit formations equals the number of wheel rotations, the distance is simultaneously measured with speed.
Electronic speedometers hold leverage over Mechanical speedometers because of their minimalistic component requirement and, hence, their durability and endurance. And the fact that, if even one of the six components of a mechanical type is damaged, the recording is affected.
How to Install speedometer on Dirt Bike?
To begin with, fix the magnet onto the wheel bike in an area that spins when the wheel spins and stops when the wheel stops, thereby displaying speed and distance with accurate precision. Also, the site selected should not prove to be obstructive when the wheel is in motion.
For example, the brake router. No obstruction and stays in sync with the wheel spins. The other recommendation is the bolts on the wheel disc.
The selected material should not be damaging for the adhesives, either to the wheel/area of fixation or to the magnet itself. The drying and permanent fixation may take time. Also, you can directly drill a magnet-sized hole and fix it into the hole.
Next, to not jumble up the brake wire and the speedometer cable, you have the option of moving the brake line to the outer circumference of the wheel while keeping the inner circumference for the speedometer cable.
The following step involves the attachment of the magnet sensor onto the adapter. This adapter is then fixed onto the vacant inner circumference as planned.
Connect one end of the speedometer cable to the magnet sensor and the other to the speedometer. The connector must match the calibration of the magnet sensor cable.
While connecting, match the color-coordinated individual wires not to make any mistakes or a mess. Once the connection has been made, you can adhere the wire to the fork using tape, zip ties, or any other fastener that guarantees long-term stability.
If you have a horizontal handlebar across for mounting the actual display part, it is easier to install. However, whether the handlebar is present or absent, you will need drilling and mounting using montages.
For an audio-visual explanation, please click on the following link – https://www.youtube.com/watch?v=Rg8nPCTBX7I
Motorcycle Speedometer Components
The components are the same as mentioned above in 'how does a speedometer work,' just with an addition of a cable. This extra cable is responsible for light signals.
Light signals include right/left blinkers for turn indicators, overheating, and gear shifting. Also, it powers up the backlight during night riding.
FAQs
● Can you put a Speedometer on any Dirt Bike?
Yes, you can put on a speedometer any dirt bike. However, the options and the way to go about it may vary, depending upon the company and style of the dirt bike.
● Is it Legal to have a Speedometer on a Dirt Bike?
Commonly, all dirt bike types have a speedometer at the time of purchase. However, there are chances of them not being pre-installed at the time of buying.
So their installation or non-installation works both ways. As for the legalization part, yes, it is legal to have a speedometer on a dirt bike.
● Do you need a Speedometer to make a Street Dirt Bike Legal?
No. Just like I mentioned above, it is okay either way; whether you have a speedometer dirt bike or a non-speedometer dirt bike, it does not influence the legality of your ownership of the dirt bike.
● Can you add a Bicycle Speedometer on a Motorcycle?
Not directly, but yes, you can add a bicycle speedometer on a motorcycle. The issue may arise to the size difference between the bicycle spokes and motorcycle spokes.
The magnet size difference is also one of the other issues that may arise. Simply find the right-sized/matching magnet and magnet sensors, and your problem is solved.
Conclusion
Weigh your options with scrutiny and an in-depth survey of all types and categories within reach. Regret should not be weighing in any form on your shoulders.
Wrap your mind around one sort, inspect all its traits and then stay firm in your decision. I'm sure you'll be the proud owner of the best!
| Image | Product | Feature | Price |
| --- | --- | --- | --- |
| Best Among all | Trail Tech 752-119 Black Vapor Speedometer | The trapezium-shaped, a little over a pound weighing speedometer is a classic selection of high-end dirt bike manufacturing companies, including Suzuki. | Amazon US |
| Smallest Dirt Bike Speedometer | Trail Tech 202-111 Digital Speedometer | Smallest and the simplest dirt bike speedometer. Display features are – speed, both maximum and average, two-trip distance tracker, an odometer, ride time. | Amazon US |
| Feature Loaded Dirt Bike Speedometer | SAMDO Universal Motorcycle Speedometer | Slightly larger and heavier than the above ones, this one's a feature-loaded speedometer. The more the features, the more surface area required to display them, hence the larger dimensions. | Amazon US |
| Round Face Dirt Bike Speedometer | ELING Motorcycle Speedometer | Short and sweet. No too many messy wires, no head banging against the wall. All you need to do is place the speedometer into the designated hole, put the gauge, and then tighten it. | Amazon US |
| Cheapest Dirt Bike Speedometer | Searon Tach Hour Meter | All RPM features present – recall, programmability, backlight blinking, etc.; all these resettable. Combination buttons perform extra functions than their individual displays. | Amazon US |
| Best Mechanical Dirt Bike Speedometer | DKMOTORK Mechanical Motorcycle Speedometer | Stainless in nature, DKMOTORK Mechanical Motorcycle Speedometer is known for its best mechanical functioning among all other speedometers. All black, classically stylish. | Amazon US |
Also read: