Helmets are one of the most important riding gears for any rider. They keep your head and skull protected and prevent injuries if you suffer an accident. Moreover, a good-looking helmet always looks great on your head and increases your appeal as a rider.
However, with so many helmets out there, how would you know which one will work the best for you? What if you want to go for a low-profile helmet but don't want the mushroom head style? Well, then you need to check your options very thoroughly.
We have made the task easier for you with our list of nine of the best DOT-Approved Half Helmets for you to check out. Have a read further and see which helmet works best for you.
1. LS2 Rebellion Motorcycle Half Helmet
This half helmet is genuinely one of a kind with its immensely useful features. The LS2 half helmets provide excellent protection from hard crashes. The liner inside can be easily washed and changed.
The UV-protected visor promotes a clean, sturdy look, is removable, and can be replaced with other varieties too. The Rebellion helmet series also comes with handy ear inserts if you wish to block out any excessive external noise.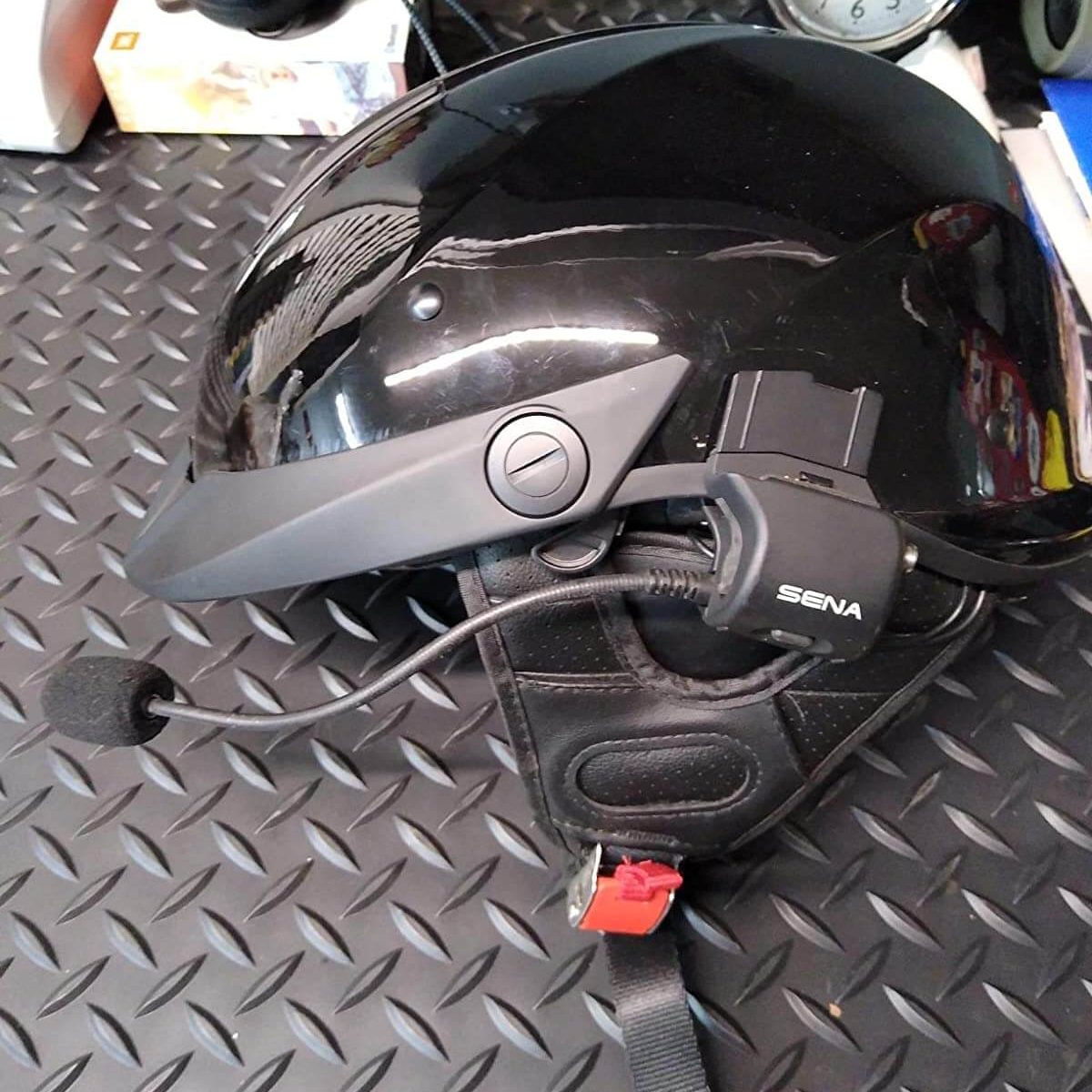 The stylish skull does not fail to deliver outstanding quality built with a tough Kinetic Polymer Alloy (KPA) that withstands extreme weather conditions.
The short peak and twin shield system drop-down sunscreen protect your eyes effectively even when the sun is in sight. The sun shield also has a two-stage adjustability lock. You can lock it halfway for a lighter shade or leave it entirely open in broad daylight.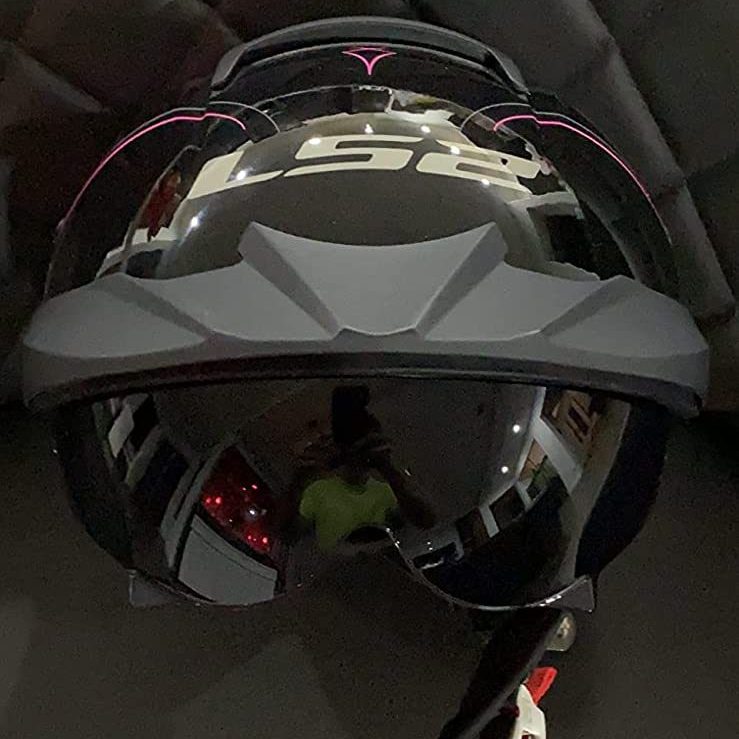 The dual-density EPS meets or exceeds DOT and FMVSS 218 standards and the model micrometric standard too.
This model by LS2 is Bluetooth-ready, too; you can now easily set up your half helmet with the Linking BlueTooth Communication system approved by LS2. The helmet weighs moderate and is lined with a hypoallergic and moisture-wicking breathable liner.
PROs & CONs
Pros
Extremely crash resilient
Minimal buffeting
Convenient quick-release strap system
Cons
Slightly expensive
The visor turns slightly milky in strong sunlight
2. Daytona Helmets Half Skull Cap
The multiple Daytona Helmet ranges are to die for. Extreme comfort paired with heavy protection available in various exteriors will make you love every model of them.
The helmet models are available in solid colors, graphic prints, or you could go for even carbon fiber-like rustic appearances as well.
The outer shell skull is composed of Polycarbonate plastic, mainly Acrylonitrile Butadiene Styrene, which yields a more stern look.
The inner material is spun from high-grade expanded polystyrene to provide comfort with style. It offers superior impact absorption and protection in random accidental crashes or flying debris. The skull caps from this range are incredibly durable, breathable, and relaxing.
These stylish half helmets are available for all sizes to sit nicely on your head comfortably. The measures go from as small as 3 XS to massive 4 XL ones too.
The EPS foam used throughout protects from the outside shock and restricts head movement inside. The liner is wholly moisture-wicking and made of fine good quality material that prevents abrasive rashes or discomfort.
It comes in prints as well, you can check out all the designs and prints from the official Amazon page, it also comes in Carbon Fiber as well, you can buy that from Amazon as well.
PROs & CONs
Pros
Value for money
The sizes available are true to size
A highly functional top vent allows better air circulation
A wide variety of designs is available
Cons
Slightly uncomfortable for ears
Not a totally low-profile model
3. Bell Pit Boss Half Face Helmet
The Bell Pit Boss Helmet is another great half helmet choice for people who wish to have a fun riding experience that simultaneously seals down all protective measures.
It features a carbon composite built shell with an internal slip-on shade to cure all blazing sun rays hitting directly. With an easily accessible go button, you can turn on the stylish protective shades on the run!
Not just that, the Bell Pit Boss Helmet range is true to size and ranges between XS and XXXL to fit most of the head sizes.
You will surely fall in love with Bell Pit's adjustable speed dial fitting system for an optimal fit every single time, with no fail.
Wiping away any slippage during your swift long rides, it ensures a secure yet sturdy fit throughout your journey, unlike modern half helmets that sway away because of their poor ergonomics.
The absolutely stunning build is what sets it apart. The super lightweight shell boasts of a TriMatrix (carbon/Kevlar/Fiberglass) composite exterior to safeguard your cranium from all damaging slips and rages.
The interior lining is antibacterial, antimicrobial and runs in a microfiber weave. The two-shell 3 EPS system highlights the shell's strength to withstand all DOT and 218 certifications.
PROs & CONs
Pros
Better aerodynamic design
Extremely comfortable
Speed dial adjuster is apt for perfect sizing
Cons
Drop-down sunglasses partly cover the eye area
Heavier than regular half helmets
4. LS2 Helmets 568 Bagger Motorcycle Half Helmet
An LS2 helmet has once again grabbed a place on our list. This utterly affordable half helmet by LS2 provides you high-grade protection without compromising comfort even under a low price bracket.
The cushioned padding is composed partly of nylon and spandex, seamlessly webbing across entire interior walls. The interior is completely removable and washable too!
Even the dainty exterior is made of ultra-lightweight High-Performance Fiberglass Composite (HPFC) shell delivering at par excellent protection.
To relish an all-year comfy riding experience, you can enjoy the removable neck skirt at the back of the helmet for an effortless, hassle-free three-season riding.
The zip-off neck shirt will provide warmth during colder days. The quick three-way peak shade also prevents your upper face from any debris or weathering.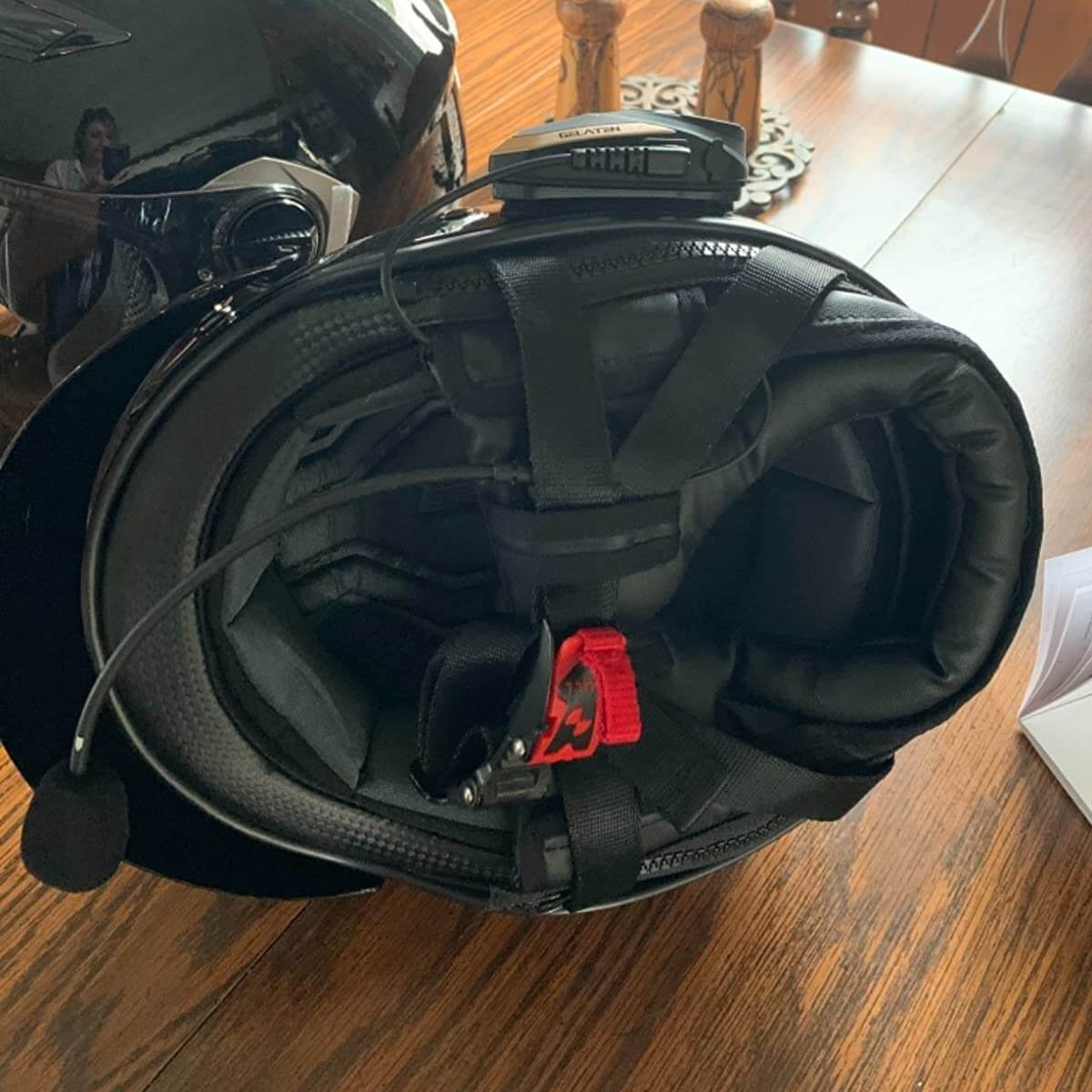 You can now integrate various communication devices with the helmet and chill during your entire journey. Pockets and speaker inlets help you connect and store all your wiring and buttons efficiently.
The neck shirt features pockets for speakers linked to an MP3 player along with a concealed pocket underneath to organize any wiring that comes along.
PROs & CONs
Pros
Inner compartment for audio wiring
Remarkably slim
Bluetooth speaker compatibility and associated pockets
Cons
Sizes run small. The size may not be well-fitting if compared to other brand sizes
The back clasp is not that tight
5. Sena CAVALRY Half Face Helmet
Science and technology have unarguably advanced a lot in the last few years, and even bike helmets would agree with this. The Sena Cavalry Half Helmet is way more brilliant than any regular helmet out there.
It is pre-wired and comes with built-in Bluetooth compatibility and controls. You can now ditch away from your external headset and enjoy Cavalry's communication capabilities on the go!
No need to stop midway to attend important calls or change music. You can now easily interact using the internal helmet intercom system paired best with an inbuilt microphone with the model to enjoy clear, noise-free calls.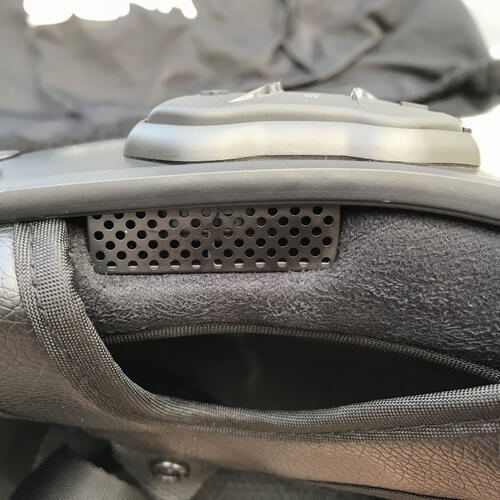 The Bluetooth version supported in this model is 4.1. The innovative noise control technology blocks noise up to a range of 900 m (0.5 miles) for an approximate talk time of massive 10 hours.
You now have the freedom to share stuff or communicate in real-time with your riding companion with no hassle.
The entire model with added speakers and mic weighs around 3.75 pounds and has no scope of slipping at higher speeds or jerking when hit with foreign objects, let alone crash damage.
We have also made a detailed ownership review of this helmet, you can read that to understand everything about it, we have shared all of my experience with this helmet in detail in that detailed Sena CAVALRY Review.
PROs & CONs
Pros
Comfortable fit with even 8-hour rides
The music and intercom system has seamless connectivity
Advanced noise control paddings
Cons
Cheap quality chin strap
Needs to be charged frequently to use the sound system
6. Skid Lid Helmet (Half Face No Mushroom Head)
This budget-friendly Skid Lid helmet is perfect for frequent regular rides. You get a highly protective and comfortable half helmet within a few bucks that will protect your skull even from serious slip-offs.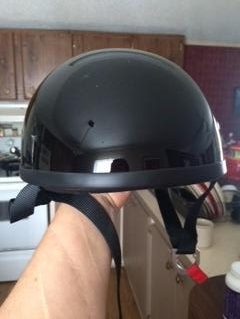 The retention straps in the helmet snap quickly and stay in place. The outer shell is a tough weather-resistant polycarbonate structure injected with a thermoplastic alloy to top it off.
This half helmet is probably the lightest pick on our list, weighing just 1 pound so that you enjoy more lightweight protection for your shorter trips instead of bulky helmets that strain your neck heavily.
This helmet is quite portable too. You can easily carry this in a small duffle bag, and its reasonable dimensions also take up less space.
It is not packed with heavy pads and cushions entirely from the inside but still offers decent padded protection to ensure your head does not suffer from shocks and cracks.
More protective layers are added to the roof of the helmet to promote a safe ride overall. The liner is microfibre-based and anti-bacterial too. Being lightly padded, the entire helmet can be washed easily.
I am using this one for the last 4.3 years now, I use it occasionally, but after spending so much time with it, I have made a detailed ownership review. There I have shared all the experiences I had with this in detail, if you want to know more about it you can read that as well from this Skid Lid Helmet Review.
PROs & CONs
Pros
Super affordable
Minimal and sleek design
True to size models
Cons
Low on padding
Way too small head coverage size
7. TORC T50 Route 66 Open Face Half Helmet
To give a chic retro look to their helmets, TORC produced their T50 model range with faux suede leather interiors that look great and are snug.
This low-profile half helmet comes with a soft padded chin strap with a seamless D ring closure to ensure your helmet stays right in place even during the longest rides.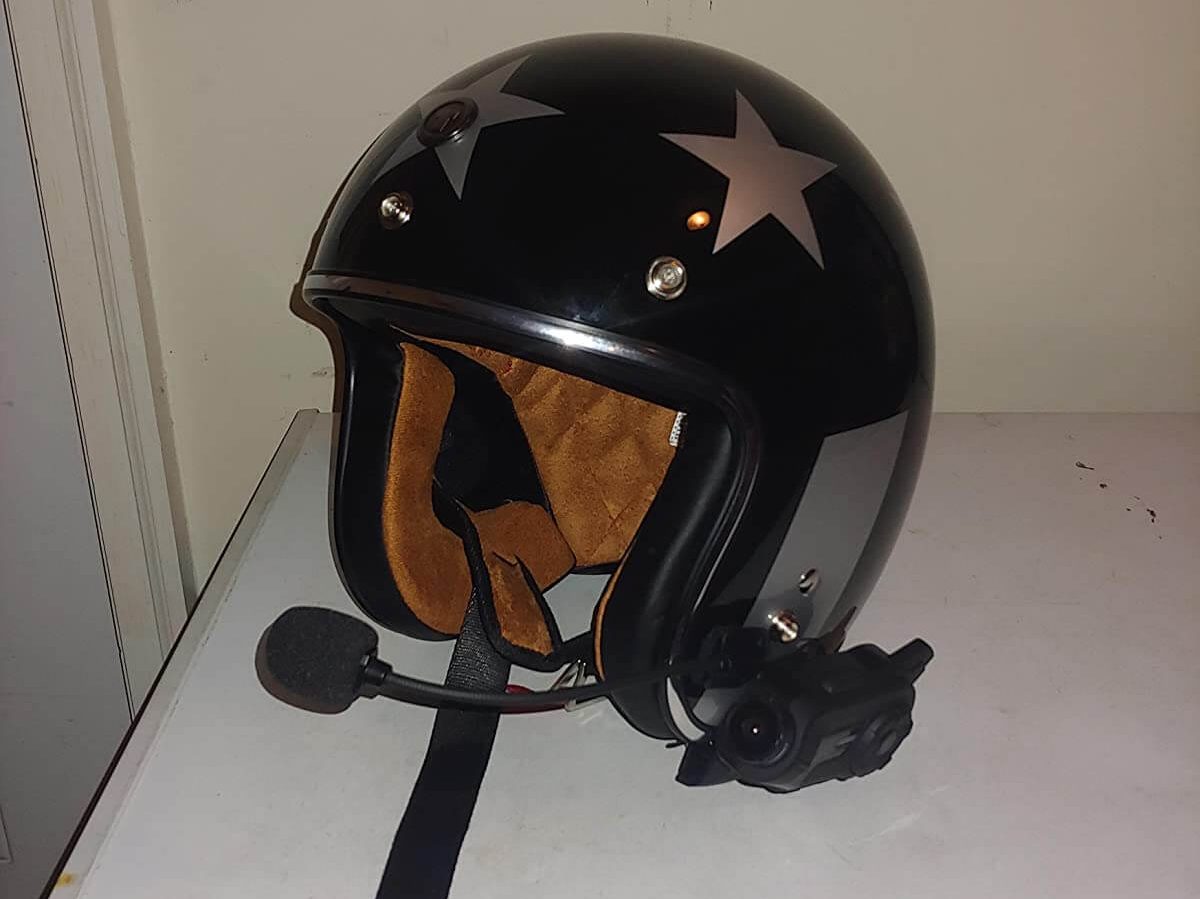 It features a slim-fit open-face design embraced with a retro graphical touch that many love. This helmet comes with a small sunshade visor to protect yourself from your surrounding dusty weather or heavy rains.
It provides scope for attaching a full face visor too. The models are size appropriate and are available from XS to a 2XL extent.
The internal ear pads with the helmet are detachable and can be fitted accordingly. They provide a noise-free environment and increase the air ventilation inside, too.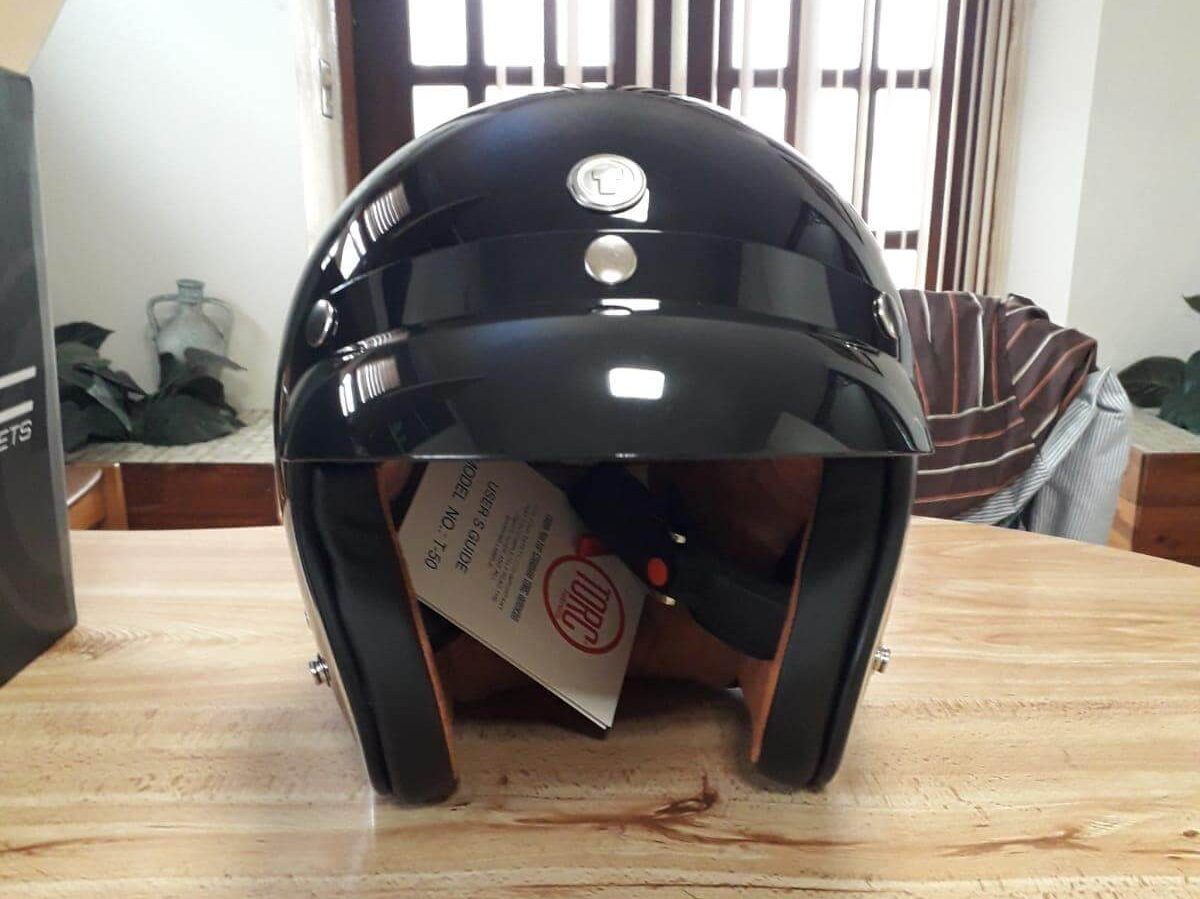 The quality of the padding, straps, and inner lining is quite impressive at such a low cost. The lining isn't removable, although you can add a new one too.
Its finish is relatively smoother on the skin, unlike cotton-based polyester liners. Now you will call me a mad man, I have also owned this helmet for two years now, and I made a detailed Torc T50 review as well, you can read more about it from there.
PROs & CONs
Pros
Good comfy fit that stays put
High-grade internal padding
Fine quality snaps and latches that don't crumble or unclasp themselves
Cons
Poor internal ventilation in humid weather
Longer sides and back of the helmet make neck-craning troublesome
8. Vega Helmets Half Size Warrior Motorcycle Helmet
Vega needs no introduction when it comes to excellent quality helmets and other associated accessories. This half-shell biker helmet weighs just 2.2 pounds only and hence, leads to a comfortable, snug yet protective fit.
It is engineered with a thick, high-density, fully ventilated EPS liner that performs tremendous shock absorption, yielding no cranial injuries to the rider.
The internal polyester blend lining is comfortable on your skin and is hypoallergenic as well.
Not just that, the optically correct drop-down sun shield effectively blocks incoming UV rays, floating debris, dust, and bugs, making your travel experience much more relaxing.
The size adjustment dial system is the perfect solution for all sizing issues, as you can now get a custom fit anytime!
The advanced wick-dri liner intact in your helmet will cover all the excess moisture issues nagging you. With channeled EPS vents, you can enjoy a calm ambiance even in the hottest summers.
Being cherry on the top, the quick-release strap makes your life easier by maintaining an easy and comfortable fit throughout the ride.
PROs & CONs
Pros
Available in a wide range of colors and designs
Lightweight
Quick-release strappings and adjustable knobs included
Cons
Sunshade sits weirdly around the nose area, making it uncomfortable
No removable liner
9. CRAZY AL'S Half Helmet No Mushroom Head
The last model on our list is the Crazy AL half helmet featuring an exceptionally low profile design that sits comfortably on most head sizes with a no mushroom look.
This is probably the smallest and lightest DOT standards-approved helmet. So if you wish to buy a light yet durable small helmet for your trips, this is the best option available. The sizes are available from XXS to XXL, with a round to oval fit.
Made from toughened fiberglass, this Crazy AL helmet won't let you suffer any crashes providing ultimate protection.
This helmet comes with an adjustable quick-release strapping system so that tying and tying your helmet is executed within seconds with little effort. The clasps attached are pretty robust and won't come off at high speeds.
The helmet weighs approximately 1.66 pounds, which is relatively light. The finish is glossy and premium-looking, which looks great on a small helmet that explicitly covers your upper cranium.
This model is perfect for people who find covering helmets inconvenient or ill-ventilated to use. The rim is lined as well so that the helmet does not leave any redness on your forehead.
PROs & CONs
Pros
Ultra-lightweight build
Super comfortable even in hotter months
Snug fit
Cons
Being lightweight tends to fly off, and hence the chin strap chokes
Less absorbing paddings
The helmet industry has grown a lot in the last two decades, and now many efficient models are being manufactured at reasonable prices.
The new technology has made your helmet-wearing experience super comfortable. Gone are the days when bulky headgears would thrash down your skull.
The upcoming lighter models in the market are well designed for better aerodynamic resistance and are super sturdy too!
According to the analysis, the final verdict goes as follows.
Important things that you should take care of before Buying a Half-Face Motorcycle Helmet
In the internet era, you can find as much information as you want. But do not let that overwhelm you. There are still some things that are not easily found in online search engines such as the Half-Face Motorcycle Helmet Buying Guide.
The prerequisites for buying a Half-Face motorcycle helmet are different from traditional motorcycle helmets. This guide is an important resource that you should have before buying a Half-Face Motorcycle Helmet.
When you are buying a Half-Face helmet, it is important to consider the size of your head, the positions of the vents, and how easy it will be to wear sunglasses with the helmet.
Choosing between a full-face and half-face helmet should depend on what you are looking for in a riding helmet.
When it comes to purchasing a Half-Face Motorcycle Helmet, there are a few things that you need to take into consideration before making your decision.
Important things to consider when buying a Half-Face Motorcycle Helmet:
1) Safety Standards: The use of helmets is an important part of bicycle safety. It is important for the helmet to meet the standards for your country, state, or region.
There are different standards depending on the region, so it is important to take this into account when purchasing a helmet.
2) Style and comfort are two qualities that are often considered when buying a bike helmet. The stylish factor is important in order to go with the style of the person's bike, while comfort is important for the overall safety of the individual.
A bike helmet should meet safety regulations and provide protection from accidents without sacrificing style or convenience.
3) Fitting and weight are other factors that one should consider while buying a motorcycle helmet.
In order to protect your head while you're on the slopes, it is important to choose a helmet that is properly fitted and not too heavy. It should sit snugly on your head with no gaps, and the chin strap should be firmly fastened.