Wearing goggles for people like me who has prescription glasses is impossible, and these glasses don't even protect you from any kind of dust and dirt. So, I started looking for motorcycle goggles that fit over prescription glasses. Here are very few motorcycle goggles that will fit, and I have handpicked motorcycle goggles.
These are the best motorcycle glasses that fit over prescription glasses:
Global Vision Motorcycle Safety Sunglasses
Bikershades Fit Over Goggles Polarized Anti Glare
Global Vision Z87.1
Bobster Phoenix OTG Interchangeable Goggles
Cherrys Ski Goggles UV Protection over Glasses
Cynemo Motorcycle Goggles
TYSKL Retro Pilot Motorcycle Goggles
100% STRATA Goggles
Dmeixs Motorcycle Goggles Anti Fog UV ATV Off-Road Dirt Bike Goggles
4-FQ Motorcycle Goggles Dirt Bike Goggles
Assuming that our readers are as active on social media as half the population on this earth you must have been going through the memes on 'struggles if people who wear glasses'. Yeah, we know it's hilarious but isn't it right too?
People who have to carry the weight of prescription glasses actually go through a lot of struggles and one amongst them is finding motorcycle goggles that fit over glasses.
If you are one of them you surely know what we are talking about. When riding the coolest bike is your passion but if you're afraid that the whole vibe is going to get ruined with those pairs of prescription glasses trust us, we feel you.
There are many companies who are making Prescription Motorcycle Glasses, but those can cost you a lot, if you want to read more about these Prescription Motorcycle Glasses then you can read this article.
But, don't you worry we have just the perfect solution for it, motorcycle goggles that fit over prescription glasses.
Now, even if you know the solution to all your problems you are just halfway there. There lies a whole lot of process ahead of you. You just cannot go with anything that comes in your way there goes in a little bit of research, and a lot of research.
But, here we are recommending the best motorcycle goggles for glass wearers, a total of ten of them aiming to reduce your stress putting forward only the options that are actually worth your time and attention.
All of the options that we are putting forth are the ones that have been well tried and tested by consumers beforehand and you can very much trust in the quality of these.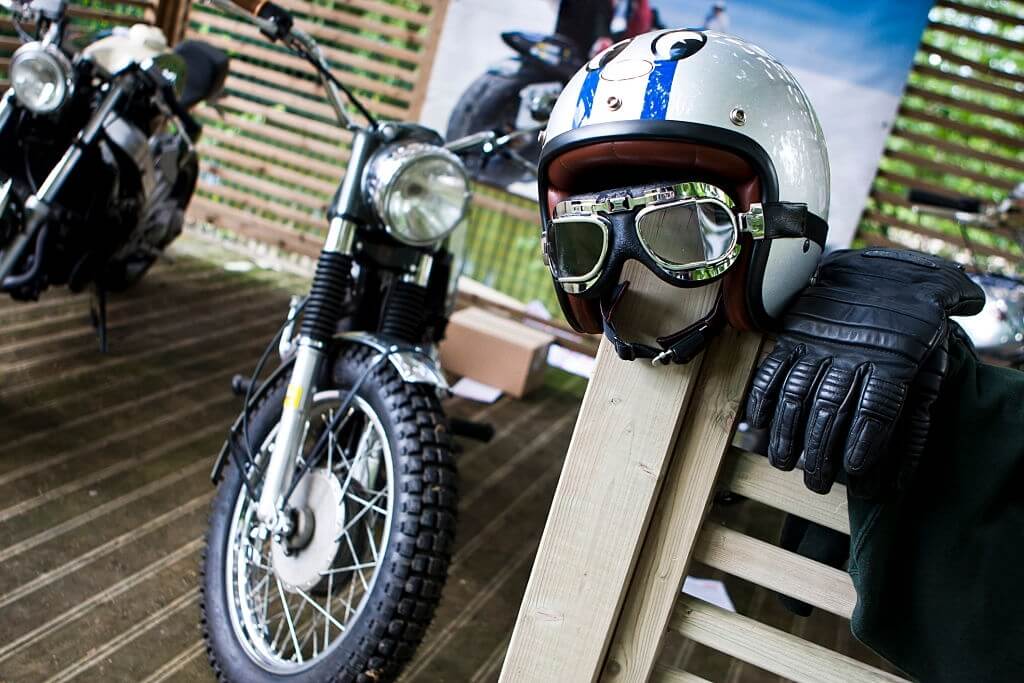 Moreover, we are going to be suggesting options that fit all of our reader's budgets. From low to middle and high budget people, all of them can afford these.
We will also make sure that once you buy these, you won't have second thoughts because we have prepared a well-elaborated listing of pros and cons which gives you all the more power to make a better decision for this investment.
Global Vision Motorcycle Safety Sunglasses
The first one in the list of the best motorcycle goggles that fit over prescription glasses is from the brand Global vision. This brand is known for making motorcycle goggles over glasses that won't just do the job but also come with a great price point as well.
So, for those of you who are still trying out motorcycle accessories and don't want to invest a lot into it, you can surely check it out.
With a rating of 4.2 stars on Amazon, these pairs have made it to our list and you will see what makes them receiving such great reviews and ratings in the next section of features of the glasses.
These sunglasses come in a pack of 3 and are priced at just under $40. Isn't it a great deal? These are the features that this goggles has:
Plastic frame
Polycarbonate lens
Shatterproof Polycarbonate Lenses
UV400 Filter for Maximum UV Protection
Scratch Resistant Coating
The soft airy foam fits over most of the eyeglasses
Matte Black Nylon frame
Anti-Fog lenses
PROs
Fits perfectly over the eyeglasses
No fear of the glasses falling off while riding
Anti-fog lenses
Scratch-resistant
All three pairs have nice colors
Affordable
CONs
A bit bulky
Doesn't look very stylish
Bikershades Fit Over Goggles Polarized Anti Glare for Motorcycle Riding
We all have that one sibling or a child or any family member for that matter who is very clumsy and won't take a second to ruin stuff. If you can relate, you very well know what we are talking about.
Well, this is where you should be inclining more towards extra durable material and that has a good life. When it comes to motorcycle goggles that fit over prescription glasses we have these anti-glare goggles that are suitable for motorcycle riding, skiing, cycling, or any such outdoor activities.
But, do you know what's the best part about these goggles? These come with indestructible polycarbonate frames with MemoryFlex and that means even if you wear these for all the outdoor activities you are indulging in it will last longer and you get the worth of every penny that you spent on it. Features:
Impact-resistant Polycarbonate lenses
Thicker, softer, dual-layer foam
Air vents to prevent fogging
Polarized glasses
Anti-glare
Weight: 3.2 ounces
Comes with carrying bag
Fits all sizes of Heads
PROs
Adjustable
Affordable
Looks Premium
Comfortable due to foam cushioning
Good quality straps as well
Universal Fit
CONs
The anti-fogging system isn't that effective
Global Vision Z87.1 Motorcycle Safety Sunglasses
If you are looking for something that will solve all your worries related to motorcycle riding goggles over glasses, this is it. Look no further and check this out once. Trust us, you won't regret it.
Doesn't matter if you are tight on a budget or looking for goggles that are versatile and can be used all along the day, this is your pick. These come in a pack of 2, one clear and one black and that is why you can use them during day and night both rides. Can you guess the price for something as amazing as this?
Tell you what it is just under $30. Moreover, you don't need to worry about the product quality as well since it has a 4-star rating on Amazon and 56% of the total reviews have rated it a 5 star. Is there anything more you can ask for? Here are the features:
Fits over most Rx Glasses
Day and Night usage
Meets ANSI Z87.1 Standards for Safety Glasses
Comes with soft air foam padding
Polycarbonate lens
Shatterproof polycarbonate lenses
Scratch-resistant coating
PROs
Affordable
Prevents eyes from dirt and dust
Fits pretty good
Looks good as well
CONs
A little uncomfortable
Works well for small lenses but not something larger than that
Bobster Phoenix OTG Interchangeable Goggles
Here we are on the third recommendation from motorcycle goggles that fit over glasses and do you know what is going to be common in all the ten recommendations? Without any doubt, it has to be the quality and high-tech features that you are getting for the dirt-cheap price.
Had it been for some other brand than what we are talking about, looking for something nearly as good and in the same price range is going to be an irksome task.
Well, about the Bobster Phoenix OTG Interchangeable Glasses you get three types of lenses- Smoked, Amber and Clear and in just $29.11. That's not where it ends and we have this list of features for you:
Polycarbonate lens
OTG Technology ensures a comfortable fit
Sweat-absorbent, neoprene foam
100% protection from harmful UV rays
Anti-fog coating
PROs
Interchangeable lenses
Black frame makes it a versatile pair
Comfortable
Flexible frame
Fog-free vision
UV Protection
Great price for the features
Comes with a protective carrying case as well
CONs
Large air vents cause the dust particles to enter through
Cherrys UV Protection over Glasses
Are you bored of the same ordinary riding goggles and are looking for something more interesting? Well, we have got the perfect pick for you. The next pick isn't just any riding glasses but off-road goggles that fit over glasses.
Now, this means they aren't just any riding glasses but are different from the ordinary ones in several aspects. To begin with, they surely don't like one. Since they are primarily made for skiing they have these broad lenses with a very cool frame that looks cool both on and off the ice.
Secondly, they are very versatile and are not limited to being used only for skiing but for different purposes such as jet ski, climbing, snowboarding, cycling, snowmobile, etc.
Hence, this won't be just lying in the cupboard when you are not in the mood of riding you can use it all throughout the year. Some other features of the goggles are mentioned below:
Frames made of high-quality silicone material
Lenses made of strong PC material
Functional in various conditions
Fit for Men, Women, Girls, and Boys
Adjustable strap
Flexible silicone frame
Compatible with most of the helmets
PROs
Adjustable
UV Protectional
Good quality
Long-lasting
Drop & Shatter Resistance
CONs
Fits over small glasses only
Cynemo Motorcycle Goggles
CynemThe next one in this list of over glass goggles is the leather motorcycle goggles that fit over prescription glasses from the brand called Cynemo.
The features that come with this pair of glasses are pretty the same as the other pairs which will be looking at in the features section but there is surely something else that sets it apart from others. That factor is its color library.
Cynemo Motorcycle Goggles comes in about thirteen different color combinations of the lens and the frame. You will surely find one that goes with your personality and vibe. Priced at $18.99 which is probably the least in this list it comes with the following features:
CE certified high quality tinted goggles
Wide peripheral vision
Soft leather sponge padding
Protects the eyes from sunburn, dust, wind, etc.
Anticrash ventilation
Import ABS raw leather chrome metal frame
Non-slip strap
PROs
Ventilated
Cool vintage look
Scratch-resistant
Comfortable fit
High-quality strap
Several color options to choose from
CONs
Not anti-fogging
Not fit for full-face helmets
TYSKL Retro Pilot Motorcycle Goggles
While buying riding goggles for yourself there are a lot of factors that should be considered which will be discussed. But, the one amongst them which cannot be overlooked no matter how hard you try are the looks.
Through this article, we have talked through several different motorcycle goggles that have different looks. This one is a bit different.
As the name suggests, it has this retro pilot look and if you are up for it, you should surely check it out once.
Moreover, it has got some 26 options to choose from. Isn't that a lot? 26 different colors, different color combinations such as black straps with colorful lens, brown straps with the silver mirrored lens, etc.
Made of high -quality sponge padding
CE Certified
Strong impact resistance lens
Chemical resistance
UV-proof lens
PROs
Comfortable
Retro Look
Easy to adjust
Wide variety of colors to choose from
Extra-long size straps
Rigid
Durable
CONs
Lenses fog up
Can be used at night
100% STRATA Goggles
Have you been searching and searching and still can't find something that covers up all your criteria of the perfect riding goggles?
Wait, did we say perfect? Well, we guess we did, and guess what comes to our mind? The 100% Strata Goggles.
This goggle has everything that comes close to the word 'perfect'.
From looks to features to the rider's experience, everything and we are guessing that is precisely why it has got a 5-star rating on Amazon.
Amongst all the recommendations that we have done until now in this list, we guess this is the only one with a 5-star rating, and can you guess what the price is?
It is just under the $40, which is even lower than the others on the list. Now, without waiting any longer let us check out the features of the Strata Goggles.
Unisex
True to size
Manmade
Thermoplastic rubber frame
Polycarbonate lens
Curved fit
Anti-fog
Scratch-resistant
PROs
Worth the price
Curved fit provides comfort
Great field of vision
Soaks up the sweat and excess moisture
Flexible yet durable
Both matte and gloss finishes with several color options
CONs
Colours don't match with the descriptions exactly
Dmeixs Motorcycle Goggles
Are you one of the adventurous souls? If yes, we do understand how tough it is to find the perfect bike goggles that would fit over your prescription glasses and provide absolute protection from dirt and dust.
But, the one that we have here does just the job. The off-road dirt bike goggles from Dmeixs are supposed to protect your eyes from dirt and not just that but from the harmful rays of the sun as well.
If safety is your topmost concern look no further and get one of these. The other features of the Dmexis goggles are:
High-quality UP Resin material
Windproof and dustproof
Soft sponge padding
Streamlined design
Wide inner space
PROs
100% UV protection
Tough and resilient
Non-slip and adjustable strap
Comfortable fit
Anti-fog
Comes with soft headwear as well
CONs
No silicon grip feature
Scratches easily
4-FQ Motorcycle Goggles Dirt Bike Goggles
If you have been looking for polarized motorcycle goggles that fit over prescription glasses this one from 4-FQ can be your go-to pick.
We say this because of various reasons. The first one being the price point. To be precise, it has five different color options and their price range starts from $18.99 to $19.99.
That is a pretty good price point for such a good-looking and comfortable pair of riding goggles.
Moreover, these are also very lightweight and have good ventilation to keep you comfortable even in hot and warm weather conditions.
The best part we have to say is that these goggles aren't just limited to being used for biking but can be used for different purposes such as skiing, snowboarding, snowmobile, outdoor sports, for fit car enthusiasts, hot air balloonists, etc.
Lightweight
PC multi-color, reflective, scratch-resistant 400 UV protectant lenses
Ideal for half or open face helmets
Bendable OTG Frame
Designed to fit over the glasses
Multipurpose usage
PROs
Convenient to carry since its lightweight
Good ventilation
Adjustable fit
Protects the eyes from dirt, UV rays, or any foreign material for that matter
Multipurpose
Looks good as well
CONs
Has that plastic chemical smell which can be very overwhelming for some
Scratches very easily
No grip for it to stay on the helmet
Things to Keep in Mind Before Buying a Motorcycle Goggle
Now that we are done with talking about our favorite picks from the motorcycle goggles that fit over prescription glasses we should move to the buying guide and things to look forward to while buying a motorcycle goggle for yourself:
Padding: All of the motorcycle goggles come with padding and foaming but there are two types of these- open and closed. While the open one is less expensive and gets waterlogged, the other one is more durable and expensive. So, make your choice wisely.
Coverage: So, the type of goggles you are choosing also depends on the helmet you are wearing, and if it is an open face one goes with goggles that never fail to protect your eyes from the foreign substances.
Helmet compatibility: Many times consumers complained that their goggles don't fit with their helmets so keep in mind the dimensions of your helmet and then choose your glasses accordingly.
Impact Resistance: Go for goggles that can withstand at least some of the impact the road has to offer. Your riding glasses should be tough, resilient, and durable.
Ventilation: Almost all of the goggles these days have vents and it is important too since it can get very uncomfortable on hot and sunny days.
But look into the fact that these vents don't allow dirt and dust to come through.
Features of Motorcycle Goggles
Anti-fog coating: You would not want your lenses to fog up while you are riding and thus these goggles come with an anti-fog coating.
Padding: Padding and the quality of it decides the comfort level of your goggles. In this way, you wouldn't mind having these on for long hours and you will get the protection too.
UV Protection: We all know how dangerous are the UV rays and protecting your eyes from them is equally important. The best riding goggles claim that they provide 100% UV protection.
Polarized lenses: These types of lenses are for those riders who are very sensitive to the light, have gone through an eye surgery recently or want some practical lenses for the daytime.
Style: As of now, you must have seen that these goggles come in various shapes and sizes and thus look very different than others.
Here we are at the end of our Best Motorcycle Goggles that fit over the prescription glasses article, So, you can choose the one which looks good on you and goes well over your prescription glasses.
Surely, there are a lot of confusions regarding wearing glasses with helmets and then goggles over prescription glasses. But, we hope our article would have been helpful in some or the other way and clearing up the clouds of doubt.
Moreover, if you have been looking for the best picks in the market we have mentioned ten of them and given reviews about them too so you can choose for yourself and then go with the one that fulfills your requirements.
Related Questions:
Should I wear goggles on a Motorcycle?

Goggles are worn while riding to protect your eyes from the dirt, dust, harmful UV rays, or the glare on bright sunny days. So, if you want that safety go ahead and buy yourself one.

How to wear my glasses while riding a bike?

Wearing glasses while riding a bike isn't difficult but it doesn't protect you from the foreign substances hence motorcycle goggles that fit over prescription glasses are important.

Can I wear Riding Goggles over my glasses?

Yes, there are riding goggles that are redesigned to fit over the prescription ones. Go for those.

How to wear goggles with a motorcycle helmet?

Go for the ones that are specially designed to fit over the prescription glasses. It won't be a problem anymore.

What are the best motorcycle goggles?

Some of the best motorcycle glasses are- Global Vision Outfitter Goggles, Angel Biker Glasses by Bikershades, Padded Motorcycle Riding Glasses by Global Vision.

How to wear motorcycle goggles?

Do proper research and read reviews of goggles that are compatible with helmets as well.

Why wear motorcycle goggles?

Motorcycle goggles are worn to get protection from harsh wind, dirt, dust, UV rays etc.

How do you keep the wind out of your eyes on a motorcycle?

Wearing motorcycle goggles is the best option to protect your eyes from the wind while riding. However, you do have to see that they fit perfectly to keep the wind at bay.
Also read: Best Women's Summer Motorcycle Jacket