Helmets are one of the most important riding gears for bikers. They protect your head and save you from getting badly injured in case you ever meet with an accident. Moreover, they even keep you protected from heat, dust, and wind.
Not only do helmets offer protection, but with new technologies, helmets even serve as a means to add Bluetooth intercoms that will help listen to music and stay connected over calls.
With all of this, it's important that you get a good quality, strong, durable, and comfortable helmet for yourself. I have been using the Sena Cavalry Helmet for a very long time.
Now, Sena is a big name in itself, and I was never skeptical about getting a helmet from this brand. In case you're thinking too much, just have a read of this review of the helmet.
I've loved the helmet to the core, and I'm sure you're going to love it too. Here are some quick specifications of the Sena Cavalry Helmet:
| | |
| --- | --- |
| Range | 900 m (0.5 miles) |
| Bluetooth | v4.1 |
| Dimensions | 11.81 x 9.84 x 11.81 inches |
| Battery Backup | 8 hours |
| FM Radio | Yes |
| Safety Ratings | DOT Certified |
Sena CAVALRY Review
When looking for a helmet, I look for one that's strong, safe, and protective. I particularly check the safety certifications such as DOT, Snell, ECE, etc. It's also a relief to see a nice SHARP rating for the helmet. On top of it, if the helmet has got the style and the looks, it's a bonus!
This Sena Cavalry Helmet has got it all packaged in it. It's made with a fiberglass composite which makes it very strong and lightweight. Considering the weight, you'll feel like the helmet is not even there.
Adding to the comfort and convenience of wearing this helmet are its cozy interiors. The inner lining of the helmet is made with very comfortable, sweat-resistant, and moisture-wicking fabric.
So, you'll always stay dry inside the helmet even if you keep wearing it for prolonged hours.
Moreover, the inner lining is removable and washable, so you can make sure that your helmet remains clean inside out. So, that's there for all the comfort and convenience of wearing this helmet.
Coming to safety and protection, the helmet is DOT approved, which is a big mark for the safety of the helmet. Besides that, although the fiberglass material is not very rigid, its flexibility makes the helmet protective.
Since fiberglass is flexible, it will withstand any strain caused in tough situations and make sure that your head doesn't have to bear any impact or force. The helmet will handle it all for you.
Moreover, since the helmet is designed with aerodynamics in mind, you never have to worry about any wind or air resistance and can achieve excellent performance with the helmet.
Also, the vision and optical clarity of the helmet are phenomenal with its removable sun visor. The helmet is half-face, so there's no shield covering your face entirely. So, you have a clear and direct vision.
However, you can prevent the heat and dust from entering your eyes by lowering down the low-profile sun visor that would still keep your vision very clear.
Also, since the helmet is half face, there's constant airflow, and you need not worry about the ventilation. The helmet will let you breathe comfortably and conveniently.
Now, coming down to the part for which I have been loving this helmet for as long as I can remember – it's Bluetooth intercom. This helmet is perfect for going on long rides to which you don't even know the routes.
With the Bluetooth intercom, you can enable GPS, which will guide you through the path all your ride. Moreover, you can just leave the noise and chaos behind by turning on some good music.
In fact, if you'd like to go on trips with your friends or gang, then this helmet is going to be perfect.
With the intercom support for four riders in a range of 900meters, you can stay connected with your gang and easily converse with them your entire ride, no matter what the wind speed and noise are.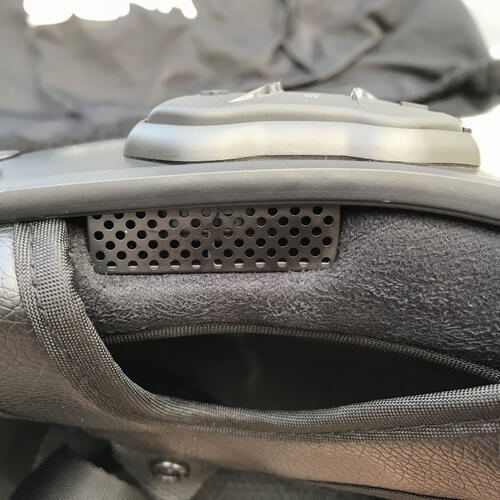 You can be sure of this uninterrupted, noise-free conversation considering that the mic has a noise cancellation feature in built.
Moreover, you can listen to everything equally clearly and without any interruption or noises with the amazing and fantastic built-in speakers that also come with a flap to create a cup-like environment inside the helmet which will further keep the noise and disturbance at bay.
Moreover, connectivity is never an issue in this helmet. It has one of the latest and most advanced versions of Bluetooth available in the market. This Bluetooth version is compatible with a range of devices.
Whether you want to connect the Bluetooth intercom with your phone, iPod, mp3 player, or any other device, this helmet will support it, and not just for you, but for the other three riders along with you as well.
Moreover, you can simultaneously connect the Bluetooth with your GPS to make sure that you're right on your tracks. Also, you can connect it for calls so that you're always connected with your friends and family.
So, the Bluetooth intercom features brilliant connectivity features and always keeps you connected. Another good thing about the Bluetooth intercom in this helmet is its built-in FM radio.
So, even if you're not able to connect the Bluetooth with your MP3 player or other music devices, you can keep listening to music by simply connecting it with the FM radio.
Also, playing along while you keep riding is easy with the seamless handsfree function this helmet provides with its conveniently accessible buttons for controlling the music and voice at the side of the helmet.
In addition to these brilliant features, the helmet is water-resistant. So, you can enjoy riding while tuning in to some good music, even when it's raining cats and dogs.
The only possible problem with this helmet could be the fact that it's half-face and doesn't give full protection as is provided by full-face helmets.
Moreover, it could be difficult to connect with the Bluetooth intercom. However, there's a work around for that, which I shall discuss in the next part of this review.
Features
Half face
Detachable sun visor
Moisture-wicking inner lining
Bluetooth Intercom with excellent connectivity
Built-in FM radio
Noise cancellation for the mic
Water-resistant
D-ring chin strap
Supports up to four riders within a range of 900meters
Aerodynamic design
DOT approved
PROs & CONs
Pros
Aerodynamic design
Seamless Bluetooth connectivity
Support for up to 4 riders
Lightweight and comfortable
Excellent sound quality and noise cancellation
DOT approved
Water resistance
Cons
It's a half-face helmet, so there's no overall protection for your face
Quite difficult to connect the Bluetooth intercom with your devices.
How do I Connect My Sena Cavalry Helmet?
While you only need to press and hold some buttons to connect your helmet, it could become confusing as to what exactly the helmet is connecting with. This happens because the helmet features a connection with GPS, phones, and intercom, all at once.
So, you need to understand what's what so that you're able to connect your Sena Cavalry helmet right. First and foremost, make sure that your helmet is fully charged so that you can have the most optimal usage of it.
Once you're done charging your helmet, find the easily accessible buttons on its side. There are three buttons – a plus button, a power button, and a minus button. These buttons are all you need to pair and connect your Sena Cavalry Helmet.
For starters, you'll need to power up your helmet. For that, press and hold the plus and power buttons until a blue light flashes. As soon as the buttons flash the blue light, you'll know the helmet is now ready to pair and connect.
Now, you can connect the helmet with the intercom just by holding the power button for a few seconds until the helmet voices the words intercom pairing.
In case you want to connect the helmet with your phone, you'll need to enter the configurations menu. For that, just hold the power button a little longer, and the helmet will voice the words Configurations Menu.
Once you're in this menu, just go ahead and press the Plus button once. This will take the helmet to the phone pairing mode. After that, check the Bluetooth setting in your phone, and wait for the helmet to connect. In case it doesn't connect automatically, just tap once on the name of the helmet popping up in your phone, wait for a few seconds, and the helmet will connect.
After that, you can use the helmet as you like it for streaming music, finding directions, calling your friends, and doing all other functions that Bluetooth pairing in your phone allows.
You can follow the same for three more riders, and all four people would easily get connected together over the Sena Cavalry Bluetooth Intercom.
So, while a little tricky and procedural, it does not seem as difficult once you know exactly how to connect your Sena Cavalry helmet.
Conclusion
Having the right helmet is extremely important to keep your rides safe and free of risks.
What you need to look for is a strong and protective helmet that would cover your head and provide amazing protection. The Sena Cavalry helmet is great for the purpose.
It's made with a flexible material that makes sure that there's no impact on your head. Moreover, it's lightweight and comfortable.
Additionally, it's designed aerodynamically. With all of that, the helmet is never a burden on your head, neck, or shoulders. It's as much like it's not even there.
The best part is the seamless connectivity of the Bluetooth intercom. You can connect with phones, MP3 players, and many other devices and can easily access GPS and calling.
Moreover, there's an FM radio inbuilt. So, there's a lot of fun and entertainment element as well in the helmet.
With all of that, the helmet is perfect for the picks, especially when you're someone who goes for longer rides and likes to keep them fun, entertaining, and adventures with no noises of traffic or other things bugging you on your trip.
All that said, I can only conclude that this Sena Cavalry Helmet has been a great friend and companion to me on my trips, and it would be the same to you as well. I've loved it all, and you're going to love it too. So, just go ahead and try it out.
FAQ
Is the Sena Cavalry Helmet discontinued?
Well, many people supposedly believe that the Sena Cavalry Helmet is discontinued. This could be due to the unavailability of the helmet on various sites. However, the helmet has NOT been discontinued. u003cbru003eu003cbru003eYou might face a little trouble in getting hold of this helmet, but it's surely there in the market, and you can find it on different sites. In case the helmet seems out of stock, you can just wait for a little while or contact customer support. Whatever the case is, you can rest assured get this helmet for yourself sooner or later.