Torc T1 and Bell Bullitt are the two very famous retro looking helmets, but this creates confusion among the buyers which one is better, and which one they should buy.
We have bought two of them and tested them rigorously to find out which one is better. After spending almost half a year with these two now we can suggest which one you should buy.
Bell Bullitt vs TORC T1
Amongst the bike riding safety gear, helmets are the most crucial products. There are practically a lot of varieties of helmets to choose from.
The list is endless, from half-sized, retro, sport, to full-face ones. To enhance your adventurous bike riding journey, investing in a good quality helmet is a great choice.
Retro helmets are back in the game and are selling out like anything. But how do you select the best retro helmet?
What is this rage around retro helmets?
They have been a cult classic since the decade they were launched. Today, after so many years, they have picked up the market efficiently.
The looks are to die for; they add just the perfect vibrant vintage look to your outfit. The structural design is old but not outdated and is highly functional as well.
Amongst innumerable retro helmets, today we have chosen two immensely popular helmet models that deliver everything they claim.
The products in the discussion are the TORC T1 retro helmet and the Bell Bullitt retro helmet. Here is a detailed comparison of the two, covering all critical pointers you should look for while choosing your next retro helmet.
Read till the end to know more. Let us have a look at a few categories and see which one of them beats the other in the specific pointers.
Differences between Torc T1 and Bell Bullitt
| | | |
| --- | --- | --- |
| | Torc T1 | Bell Bullitt |
| Weight | 4.30 lbs. | 4.24 lbs. |
| Shape | Intermediate Oval | Oval round |
| Dimensions | 13.25 x 11.00 x 10.75 inches. | 14.37 x 11.22 x 11.22 inches. |
| Safety | DOT approved, ECE 22.5 rating and FMVSS 218 | DOT approved. Meets the FMVSS 218 standard. |
| Size | XS to XXL | XS to XXL |
| Features | Removable Anti-Scratch & Anti-fog visor | Anti-Bacterial Liner |
| Warranty | 5 years | 5 years |
Price
In the cost arena, the Bell Bullitt is an expensive buy when compared to the TORC T1 retro helmet. The price remains the same for all the sizes in the Bell Bullitt category, whereas the TORC T1 helmets vary in cost according to outer finish.
Clearly, TORC allows the customer an affordable yet custom buy, unlike its competitor, Bell Bullitt.
Sizes Available
Both the retro helmet models display a large variety of sizes going from the S to XL sizes easily. The Bell Bullitt features an added XS and XXL variant too. TORC helmets conventionally run a little larger than expected.
On the other hand, the Bell Bullitt range is quite true to size. It is essential to refer to the specific brands' size charts available alongside to have a clear idea of the helmet room.
The TORC T1 fits more better on immediate oval heads, whereas the Bell Bullit works well with both round heads and immediate ovals.
For matching measurement, it is advisable to use a measuring tape to measure the circumference of your head and other dimensions if the company requires it.
Helmet Designs
Hit the road in style!
Well, we are talking about retro helmets; there is no way we could miss out on this. The range of colors and prints available with both these helmets is quite extravagant.
When it comes to options, TORC T1 has A LOT of solid and graphic prints available, from glossy solids to matte finishes, maybe even a punky sleek look; you get everything here.
On the other hand, Bell retro helmets also feature a huge list of designs to choose from but still fall short of the TORC variety. Likewise, both these helmets give you the perfect retro feel with the benefit of modern engineering but, the Bell Bullit full face retro helmet has a more premium vintage vibe to it.
Build
The Inner leather lining adds that extra charm quite effortlessly to both these models. Both of them are not entirely full face helmets but cover more than three fourths of your skull.
The bulky cheek pads in the Bell Bullit make your helmet look straight out of the 70s. Overall, both the Bell and TORC players have a nonplastic sturdy fiberglass construction that exudes retro rigidity.
The strap locking system is the one thing that sets apart the TORC T1 and Bell Bullitt. The TORC T1 retro helmet takes away these features with its efficient lock and unlock clasps which the Bell Bullitt lacks.
The latter helmet has only a magnetic lock system which, although is strong but can unlock anytime if the hold gets weaker.
The chin straps on both these retro models are of exactly the same thickness and are flexible too. So you can enjoy a cup of coffee or a sandwich while the helmet is on without needing to remove it, unlike typical full face helmets.
Noise levels
Retro helmets are noisy, and that is a fact. The paddings inside and the well-designed shell structure minimize the external noise to a decent extent.
You can also play your Bluetooth speakers from inside, making your riding experience a bit more calmer.
Comparing them both, even though the Bell Bullitt is an expensive helmet, it still barely shuns out the surrounding sounds.
In contrast, the TORC T1 outperforms the Bell helmets on this parameter quite easily.
Ventilation
Unlike standard full-face helmets, these helmets offer decent ventilation. It is a known fact that retro helmets are not as ventilated as high end full-faced ones; they both still do an impressive job in maintaining breathability.
The TORC T1 retro helmet features numerous mesh vents on the front and one rear mesh vent that is also adjustable.
On the other hand, the Bell Bullitt deals with a much varied open circulation system pathway that some riders prefer.
On the whole, Bell Built is slightly better ventilated, and the closing vents provided are made of much high grade material.
Dimensions
The Bell Bullitt tends to look smaller when exact sizes from the Bell and TORC series are placed side by side.
However, Both the helmets are dimensionally similar. The coverage area on the TORC T1 is slightly more significant than the Bell Bullitt.
There is also an Additional molding structure on the top of TORC T1 for better airflow.
Both of these helmet models are Lightweight for their retro style but weirdly weigh more than other standard full-face helmet models.
TORC T1 Helmet Review
This plastic-looking budget retro helmet by TORC features a Fibreglass tri composite shell structure featuring two front chin vents with metallic mesh lining and a rear exhaust vent also.
You get to enjoy the removable shield in case you wish to drive with a spaced open view; it can be easily replaced with a new attachment too. The chin strap runs entirely with cushioned padding to prevent external choking, topped with an easy D ring closure.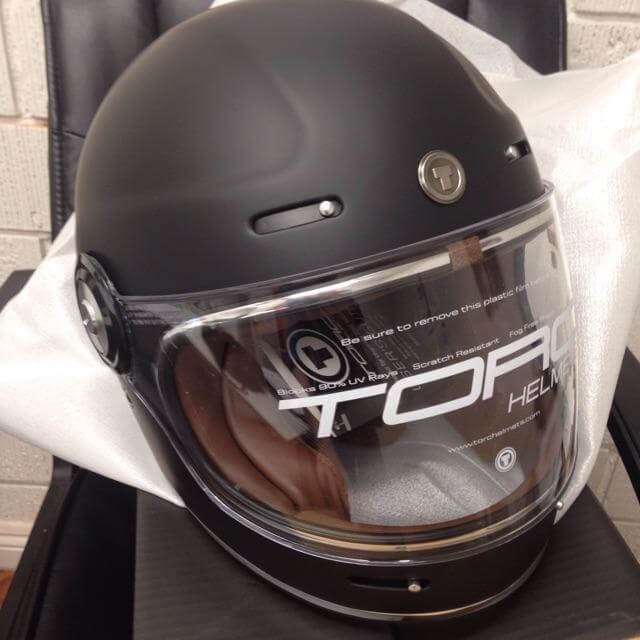 The face-covering shield protects you from flying foreign debris, blazing sun rays, directional rains, or even chilly winds.
The design is relatively simple but features an anti-fog and anti-scratch lining character on the material.
The inner compartment will create the most comfortable riding experience for you, all thanks to the dual-layer, multi-density EPS liner packed with ultra push cozy padded cushioning on top.
The fitment runs well and works out for most of the head shapes. It leaves adequate inner room for airflow and breathability while still keeping things compact, with a head movement resisting design.
With this, you can fit your Bluetooth devices using the inner foam indentations specifically grooved for external speakers. This helmet is retro in a true sense and has the widest variety of graphical vintage and solid prints ever to fit everyone's needs.
The field of view, the build, the comfort, the functionality, this cult classic is a major bestseller for all the right reasons!
DOT approved. It meets the ECE 22.5 rating and Federal Motor Vehicle Safety Standard (FMVSS 218) too.
Item weight : 4.30 pounds (approx).
Item dimensions (L x B x H) : 13.25 x 11.00 x 10.75 inches.
Model: T133 21.
Unisex : Yes.
Product Category: Motorcycling.
A Five year brand warranty.
Ultra plush interior liner.
Colors available : Bubblegum MegaFlake, Captain vegas gloss black, Carbon fiber gloss black, matte black, Dreamliner grey gloss black, gloss black jail, gloss tiffany, gold metallic, Isobars gloss white, Glossy green, Root bear MegaFlake, and much more.
Body
The shell is overall lightweight and comfortable. Compared to the Bell Bullitt, TORC has really caught up with features that actually perform at such a low price. The helmet fits like a glove.
I ordered a size XL because even XXL is more minor for me than other brands. Because the TORC sizes tend to run large, the XL fits me perfectly. There is a bit of extra molding at the top, which can be an issue at high speeds.
There are various colors and designs available for this helmet, you can check out that from the official website page.
Cushion
Nevertheless, it does provide extra room in the helmet for smooth maneuvering, and it is specifically designed to promote smoother air ventilation.
The overall finish is surprising at this price range; it kind of matches the high-end Bullitt in that arena. The inner faux suede leather is premium-looking, and the rim edges also look neat even after using it for months.
This is less noisy than other full face retro helmets, which really makes riding a fun experience.
Ventilation
The steel vent mesh is a bit fragile, but its inclusion is still welcoming at a lower price bracket. The adjustable vents work fine and have not caused any inconvenience in my experience of 5 months.
Although, it is preferable to adjust the vent while not in motion, as those flaps are little fidgety slides and have a little grip to be maneuvered when riding. The D-ring closure is a holy grail and surprisingly keeps the helmet intact even at higher speeds.
The visor runs smooth and comes with a serviceable locking lever for tighter fastening. You can also change the shield if you feel like it and switch to tinted sun shields too.
Although it misses extra sun protection and a bubble layer, the Bell Bullitt proudly claims. The helmet shell features a narrow chin bar that is way more comfortable than regular full-face helmets.
Pros and Cons
Pros
A total value for money helmet
Less noisy. It does not seal away the sound entirely but does a good job
Adjustable vents
ECE safety standard security
Cons
Not enough room for people wearing glasses
The closures are buckle-based, unlike quick release ones that are faster and convenient, especially with numb fingers
It takes time to come off the head, not smooth and rapid to use
Bell Bullitt Helmet Review
Bell helmets are known for their superior quality. The Bullitt Retro series has featured bestsellers since the day it was launched.
The Bell Bullitt retro helmet offers a vintage look but with an added modern touch of functionality.
DOT approved. Meets the FMVSS 218 standard.
Item weight : 4.29 pounds (approx).
Item dimensions (L x B x H) : 14.37 x 11.22 x 11.22 inches.
Model: Bullitt.
Colors available: Bolt Gloss Black/White, Flow Gloss Grey/Black, Flow Gloss Light Blue/Dark Blue, Gloss Black, Gloss White, Reverb Gloss Black/Silver Flake.
Product Category: Motorcycling.
Five year warranty.
Clear flat shield installed.
Body
Design features like the extra wide eye sockets give the rider the freedom to comfortably breathe and relax in a less confined space while providing complete protection at the same time.
Ventilation
It features steel mesh vents on the frontal side which are deeply inspired by the 70s style of helmet snaps.
These pathways function as great ventilation spaces that generate an air current by drawing cooler heavier air from the outside while expelling warmer, lighter air out of the shell via low profile exhausts in the rear area.
The structural body is composed of fiberglass that can withstand the harshest of crashes or weather conditions.
Cushion
The inner room is lined all over by genuine leather interiors adding that nostalgic vibe to your helmet. The exterior is unique in being a three layer durable carbon composite shell structure with added multi density EPS liners.
All the fabrics used, including leather, expanded polystyrene, and mesh, are all breathable and anti-rash sweat absorbers. This protective piece of art is an actual bell original yet a modern classic.
The Bell Bullitt is truly one a kind retro vibe good quality sturdy helmet.
Also, do not miss the all-new Bluetooth device pockets inside that help store your musical devices in place while enjoying a relaxing musical journey.
The Bell Bullitt retro helmet is utterly famous even after being an expensive buy. This helmet's overall style and finish make it a much more polished version of a retro helmet.
The cheeky pads inside are pretty bulky in the ford go, but my annoyance with them subsided within a few days only. No matter how much you may hate them, they will be there to protect your jaw from thuds or loud jerks, and their impact dissipating action works phenomenally.
The bell helmets undeniably stand out while keeping the appearance classy and premium looking, understated, snug, and immensely safe.
This Bell Bullitt has set a massive benchmark for full face retro helmets with its genuine leather and suede interiors, interchangeable extra sturdy cheek pads and cushioning lining, a lot of designs to pick, snd excellent air ventilation pathways.
Small attention to details like a faux rim trim, apt color contrast, and a dainty-looking face visor mount make it look like an actual vintage retro pick.
I was skeptical about buying such an expensive helmet when the TORC features similar features at a lower point.
Still, after using the Bell, I can assure of a much supreme quality build and crash resistance than mediocre retro helmet players in the current market scenario.
The fit usually feels nice even on longer trips, and the apt space left inside even after putting on 35 mm cheek pads makes the helmet snug yet breathable and not clumsy.
Although compact, this retro helmet does not feel like choking out the air completely and makes the riding comfortable without taking frequent breaks and adjusting now and then.
The inner liner material continues till the strapping area, which makes the chin strap a little more webbed and that stays put at all times. The double-layered metal D ring has an attached leather end flap, making locking and unstrapping easy even with gloves on.
We have also made a detailed review of the Bell Bullitt, there we have explained about it in detail, if you are interested in this, you can read that as well to understand about this product.
Pros and Cons
Pros
Good airflow
Replaceable face shield
Large peripheral vision view
Comfortable wide helmet aperture
Cons
Way more expensive than the TORC T1.
Not a quiet helmet. Wind noises are very prominent.
More cheek space allows head movement inside
Pros:
Good airflow.
Replaceable face shield.
Large peripheral vision view.
Comfortable wide helmet aperture.
Cons:
Way more expensive than the TORC T1.
Not a quiet helmet. Wind noises are very prominent.
More cheek space allows head movement inside.
Conclusion
It is obvious to find the suitable choice for you in compliance with the features that matter to you. It should fit your needs well.
If affordability is an important factor for you, the TORC T1 is the better option that offers great designs at a lower price point. The Bell Bullitt would indeed be a favorable pick for advanced riders due to its sheer simplicity and high functionality with such an excellent outlook.
In my opinion, the final verdict goes clearly to the TORC T1 retro helmet. It meets all the standards of a good quality helmet without compromising on the features.
They are durable, comfortable, practical, and easy on the budget too. If talking about the effectiveness scope, the TORC T1 in no way falls short of the Bell Bullitt.
Have a safe ride!