Looking to buy the Oneal ridin boots? Confused about its goods and bads, whether to buy this or NOT? We have made a detailed O'Neal rider boot review so that you can make a better buying decision. Boots give a sophisticated appearance to the wearer. It is also considered to be stylish and is a transition from regular shoes or sneakers that you wear every day.
O'Neal Ride Boots offers great offers durability and quality, it comes with all the important protections and comfortable to wear for long rides, and for off-road trails. It has air mesh for good ventilation and a quick lock for an easy in and out.
| | |
| --- | --- |
| Body | Microfiber and Reinforced TPU |
| Closure system | Snap-Lock adjustable four buckle |
| Toe Guard | Metal |
| Weight | 2.4 pounds |
| Ratings & Reviews | 2,600+ & 4.3/5 |
A nice pair of riding boots keep your feet protected and comfortable while riding a motorcycle. It gives good support to your ankle and leg. It provides far more protection than your casual shoes. It has to be abrasion-resistant, water-resistant, slip-resistant, and also be able to withstand all the elements that the riders are exposed to while riding.
When you choose boots that suit your riding style, your feet will feel more comfortable, and you feel more confident while riding. Without wasting more time let's straight get into the O'Neal Rider Boot Review.
O'Neal Rider Boot Review
In our O'Neal Rider Boots Review, we are going to check everything about this shoe from its body construction, to design features and the issues of having this.
The O'Neal Rider Boots puts riders at ease as they offer maximum protection for ankles and legs. It is designed with metal shank reinforcements along with injection-molded plastic protective plates. The welt sole is balanced with no uneven rocking. A metal toe guard gives protection to the soles delaminating.
For track and trail riders' moderate grip sole is enough. There are sizes until 15 and designed for the entire family.
Body
The boot is constructed with microfiber and reinforced TPU. The microfiber allows the skin to breathe and is soft. The O'Neal rider boot mentions that it is challenging and difficult to wear off quickly.
They are also easy to clean. It is irritating to wear when the boots are hot and stuffy. To minimize this issue, there is a 3D air mesh to keep your feet cool. It is a pleasure to walk with the cushioned insole.
A boot must provide adequate flexibility for its wearers. The accordion panels at the shin and above the heel serve this purpose.
The reinforced toe has a shifter guard that protects the toe top. A boot must be capable of withstanding impact and delamination. A metal guard that wraps around the sole is made for this reason.
The plate is screwed in its place to prevent it from becoming loose. In the boot's inner side, a hard TPU is present for protection and extra depth over the ankle. This area gets lots of abrasion from the bike's engine and footpegs.
So, this particular feature is quite useful. You do want to fall and slip easily while wearing boots. For this purpose, at the boot's top inner side, a layer of synthetic suede leather is there, which is heat resistant and gives a good grip on the bike.
The durable welt sole provides an excellent balance. The toe box is built in such a way that it is suitable for wide-footed men. Near the calf, there are a lot of adjustments given for those with larger calves. There is a tough inner lining to prevent bruises while wearing knee braces or knee guards on the top.
Design
The O'Neal Rider boots are designed for riding in the dirt track and trail. It keeps the mud and water out of the boots. There are a single Velcro closure and water-resistant gaitor just above the third buckle. When you ride through the muddy trails, the sole gives a fair amount of grip for support.
These boots provide heel support helps correct the lower limb positioning and takes unnecessary pressure off the legs. It supports the calves and allows free rotation of the heels. The sole is stitched in the traditional type, unlike the bonded sole. Apart from riding, when you get down on the trails to walk, it gives good support.

Also, to support, it must provide sufficient traction to get a good grip. It safeguards your feet from injury by protecting the ankles and prevents twisting of the foot. It withstands harsh weather.
Safety & Protection
A boot needs to withstand heat as it is continuously exposed to the bike. The synthetic leather heat shield helps it to achieve this. It also does not allow to retain any stain or mud marks on the boot either.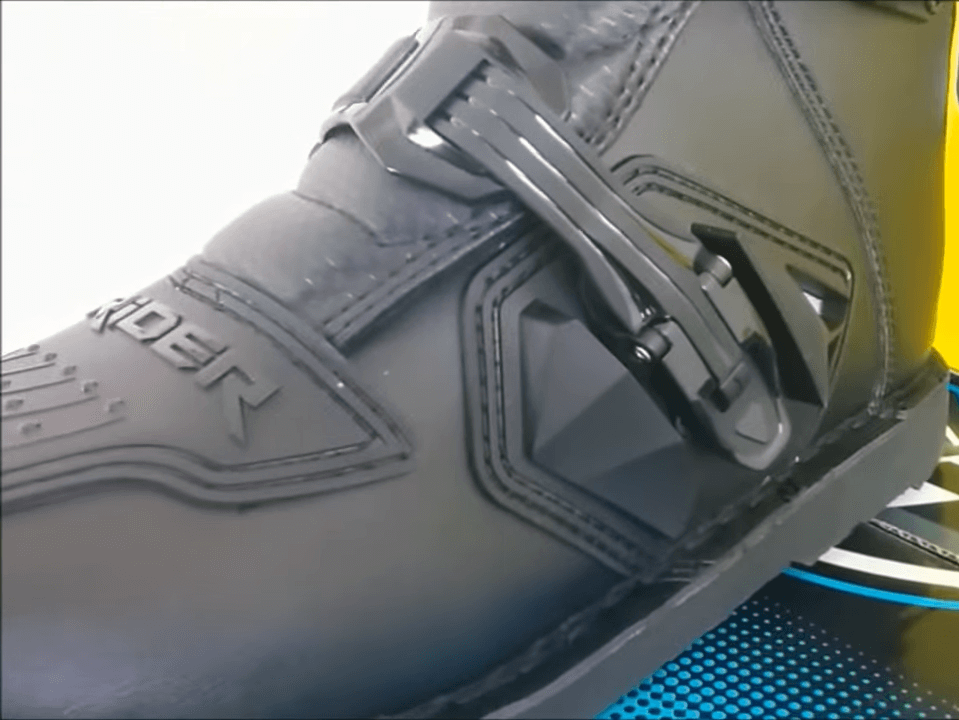 Another important feature is its ability to handle the impact. The top of the boot would be the first to get hit during an impact. There is a shifter guard that protects the upper side. The metal guard built on the front side of the sole protects it against all kinds of impacts and delamination.
When you stop the bike for some purpose, the boot withstands the sudden pressure of your legs. You do not wish your foot to get injured during a fall or accident, and the injection-molded plastic plates help in this. The plate is clasped tightly.
These boots are strong enough to handle high pressure. The metal shank inserted lends support and enhances the shape of the boots.
It is a piece of metal that is laid between the insole and outsole of the boot. While climbing hills, it takes off the pressure from your feet and calf.
Customization
These boots are custom-made, which is made especially for riding in rough terrains, harsh weather, etc. So, care has to be taken; it does not come off your leg quickly. You would not feel at ease if your boot came off.
For this purpose, the manufacturers have introduced the buckle closure system, which has four easily adjustable buckles. They are the pin type buckle and hence stay in place when worn once.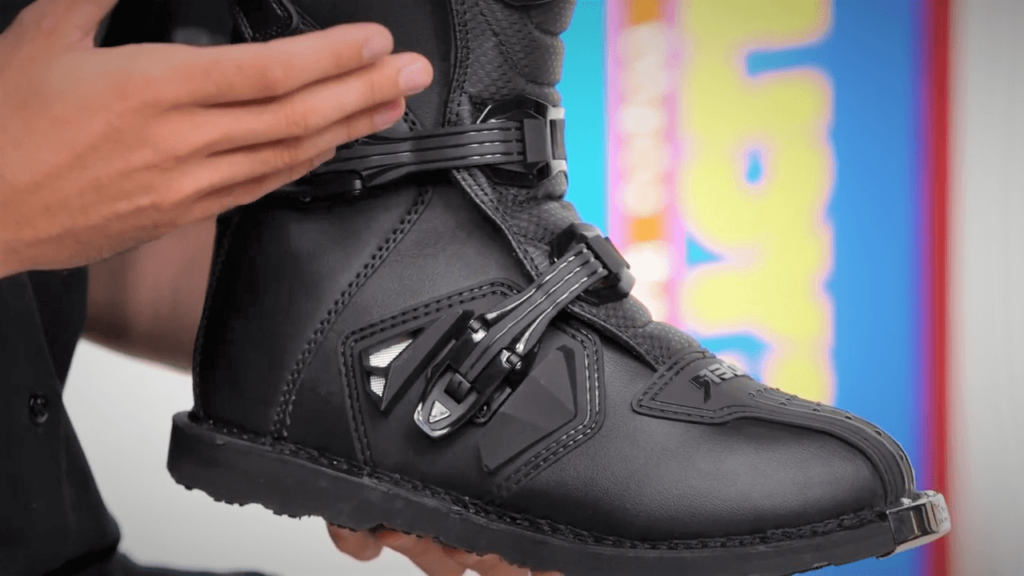 Though they are not metallic, they are still strong and durable. They can be easily replaceable if at all they break. The bottom buckle has TPU deflectors on either side to protect itself against damage.
They are added in extra depth to prevent it from wearing and tearing. You need not worry if you have large calves, as there is an adjustment near the opening. This helps you to fit your legs into the boots.
Comfort
The purpose of wearing boots is for protection. But it is an added advantage if it gives comfort. You would not feel comfortable riding in boots if it retains water and dirt. These boots are water-resistant, as it feels lovely to ride during bad weather and along muddy trails.
The 3D air mesh interior lining keeps the air circulating in the boots. So, after a point of time, your feet do not feel suffocated. Near the top, there is a severe internal lining to prevent the knee wear and knee braces from rubbing against your knee.
Now there must be enough space in the toe area for free movement of toes. Since the toe box is quite broad, you can move around your toes freely.
There are accordion panels at the shin area and above the heel that provide flexibility and facilitate easy walking in them.
These boots take some time to get adjusted to them. But within a few hours, you will get used to it.
Price, Reviews, and Ratings
These boots are so affordable, and still provides great safety and spare you from any accident or injury. They provide perfect ankle, shin, and foot protection overall and hence are worth the price.
Also, they provide comfort, waterproofness, breathing, and weather protection. You can buy cheap boots, but they will not have the same protection level of comfort that the expensive ones provide.
Reviews from customers are found to be good. They have received good ratings, which are 4.5 out of 5. Customers have reviewed the boots as worth the money and give adequate protection while riding.
Those who have fallen off while riding has reported that they did not suffer any injury on their leg or ankle with the boots on. Those who had their feet in the mud didn't get their feet dirty or wet as the boots kept 95% of the water and 100 % of the dirt out. They provide good traction, which is a plus while taking the bike out of mud or ditch.
[amazon box="B073XWHV8C" template="horizontal"]
Features
Injection-molded plastic plates give protection against sudden impacts.
The metal shank inserted gives an excellent shape to the boot and adds support.
Snap lock adjustable four buckle closure system, which is easy to operate.
The Interior side has an air mesh with a fair amount of heel support.
Cushion insole for extra comfort.
Synthetic leather heat shield to prevent heat damage caused by your bike.
Dimensions are 20 x 1 x 8 inches and weigh 6 pounds.
Pros
Worth the money
Water-resistant
Gives good comfort
Gives good traction
Durable product
Cons
Stiff while wearing for the first time
Not water resistant
Things to have in mind before buying a Riding Boot:
There are some important things that you need to keep in mind before buying a Riding Boot, and if you don't like this boot, then this buying guide will help you to pick the perfect boot for your needs.
Height: The boot's height should be at least above the ankle and have stable construction at the top to give you good support.
Though a high-rise boot is uncomfortable, it supports the ankle and provides adequate protection. The part that suffers an injury during a crash is the ankle. It can result in sprain or fracture.
Scratches or bruises may also be formed if the impact is a minor one, so a full-length boot keeps the leg and ankle protected.
Material Quality: Boots are made out of thick leather that is abrasion-resistant. But there are different materials that are used to make the riding boots:
Leather: It is the most commonly used material for making boots. Ensure that your shoes' leather material is thick and full-grain because genuine leather can protect you during injury and against lousy weather.
Though many manufacturers use low-quality leather, buying such products is not advisable. Many boots that are built of the leather must be treated. Untreated leather absorbs water, which makes your ride uncomfortable.
Gore-Tex: It is a waterproof membrane that allows your feet to breathe. It is modern, lightweight, and long-lasting and suitable for warm climates. They keep out the moisture keeping your feet dry.
Safety: Extra padding and armor are essential for the boots to withstand massive impact. The armor is made of Kevlar, carbon, or plastic reinforced in places where the chances of injury are high. These are usually found in oneal motocross boots.
Steel boots come with steel plates that protect your toes from getting crushed during a fall. Features like double or triple stitching, padded collar, ankle padding, rigid inserts, and exterior armor and toe sliders must be kept in mind.
Every time you keep your foot down to stop the bike, you need a bike that gives a good grip, solid footing, and stability in your ankle to support the bike and your weight.
The sole also has to bear the weight and healthy enough to withstand wearing off or cracking.
Comfort: The comfort that boots provide is equal to the safety it provides. Sometimes some pressure points or discomfort creeps in some places that might irritate you. So do good research and buy the one that provides comfort and safety with both.
Construction: The construction of a boot goes a long way in choosing a suitable boot. From the materials used to how the boot is held together can affect your feet's safety. Not all boots are the same.
It would help if you did thorough research on the materials and methods of construction. A stitched sole seems to last longer than a glued one. The boots that have laces are better than the slip-on since they give better protection.
They don't come off during an accident. A boot must provide adequate movement of the feet while riding. Water-resistance property must be there for the boot.
If you get drenched in the rain, your boots keep water out through an effective surface and well-constructed double seams. The boots must have an excellent shock absorber.
There are different kinds of closures, like zippers, buckles, laces, Velcro, and both. Invest in the right boot to keep your feet and ankle protected at all times.
Some parts of the boot can be replaced if they are worn out. These include the buckles, straps, and even insoles. Some boots have fitted booties that can be removed and cleaned or aired out. There are toe sliders that can also be changed if worn out.
A renowned brand like O'Neal manufactures quality boots that meet the rider's demands for boots. They design better parts with useful accessories that match well with the product.
You need to choose a classic and cool boot that keeps you comfy while at work and safe while driving for office goers. If your job involves standing all day, then you can wear boots with high heels.
Though heels are good for resting your feet on pegs, it is uncomfortable to walk or stand with that. To choose the right style boot, you need to consider the height, width, and tread design.
The riding boots are designed with features typical of the riders. They include ankle protection, torsional stiffness that prevents flexing, oil-resistant soles to avoid slipping.
Other features include shifter pads, buckles, and lace-retention designs to prevent snagging. These features are unique and different for each rider. If you want to read in detail about Riding Boot Buying Guide, then you can read this article by DennisKirk.
Conclusion
Purchasing an expensive boot is a wise investment. They last longer and keep your feet safe. O'Neal Rider Boots reviews help customers make the right choice as it offers durability and quality. Motorcycle boots are an essential part of driving motorcycles.
Hence so many companies are manufacturing boots with expensive material and designing them for your safety and comfort. When it comes to riding, we give importance to helmets and jackets. But we seldom give priority to our feet.
Injury to our feet results in our immobility. Good quality Oneal motocross boots are versatile. They give you the right balance while you stop, protect against high impact, and are abrasion and rain repellant.
They are comfortable both while riding and at other times. Though they have more material and are not as comfortable as sneakers, slip-on, or high heels, you must wear an essential item during riding.
Hence, we must always make sure we travel safely while giving importance to our feet too. If you have any questions regarding our article, you can comment down below and we are happy to answer all of them. (Click here to find the latest price from Amazon)
Also read:
Below are the some of the BestSelling Riding Boots of Amazon:
[amazon bestseller="motorcycle Riding Boots" items="5″ template="table"]