With an exponential increase in the products and technological advances being made in the after-market, riders are being introduced to a plethora of parts that offer improved performance characteristics.
If you are one such rider, you have surely come across a product called the hypercharger. This brings about the question: What is a hypercharger? A hypercharger is an after-market product that helps boost the performance of a motorcycle. These products were introduced for Harley-Davidson motorcycles in 1992 and have now become a budget-friendly method of boosting performance.
Motorcycle enthusiasts can be broadly divided into two major groups. One group consists of riders seeking to go as fast as they can, with their motorcycle being tuned for maximum performance, speed, and aerodynamic efficiency.
On the other hand, the other group of riders chooses the looks and design of the bike over performance. They seek a comfortable and steady ride that has that extra oomph to it while on the road.
When it comes to the latter group, the popular choices include the legendary Harley-Davidson and Indian breed of cruiser motorcycles. These bikes are heavy, but extremely elegant looking and comfortable while riding.
Thanks to their rich history, these bikes also have a great demand for riders looking to be a part of the heritage. However, not all riders are satisfied with the stock performance of these motorcycles. They seek to make the best of both worlds, with a classic motorcycle offering a nice blend of looks and performance.
This is enabled by after-market products that help you make improvements to aspects of the bike like power and throttle response. We shall discuss one such product in this article, the hypercharger, which gives you an increased performance boost while fitting well into the design of your motorcycle.
Hyperchargers allow for increased pressure on the intake side of the engine thanks to its scoop-shaped air filter housing. These intake components are side-mounted and have an opening facing in the direction of the travel.
As a result, the pressure on the intake side is increased during the motion of the bike, especially at higher speeds. This is because the dynamic pressure of the air being driven into the hyper charger is used to increase the air intake, which helps boost performance.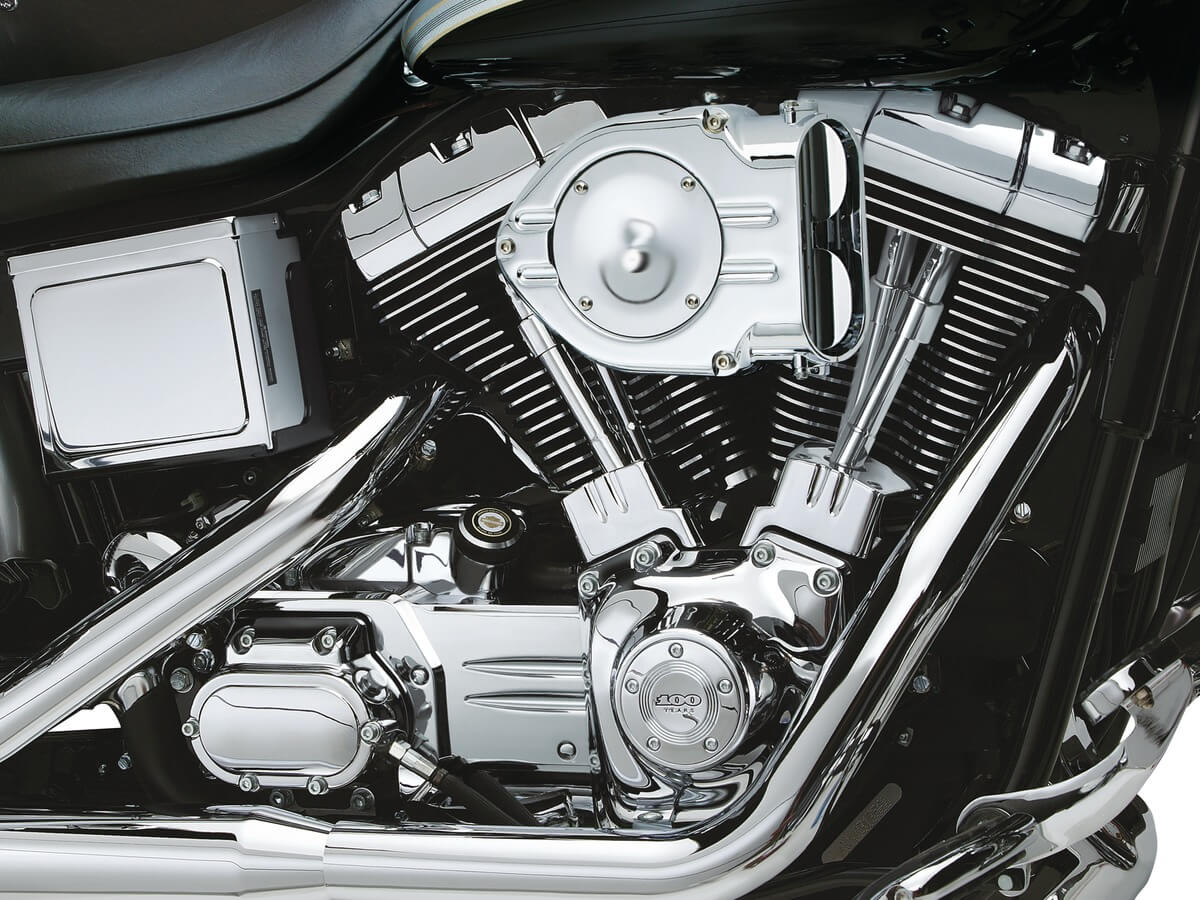 Hyperchargers allows for more air to enter your engine, which also means more fuel has to be provided in order to maintain a healthy fuel/air ratio. The flipside of this product can be reduced fuel efficiency.
Hyperchargers have seen several improvements over the years, with brands like Kuryakyn pioneering groundbreaking designs to improve the performance of these products while making them more elegant and classy looking.
The technological advances made in these products from Kuryakyn include
Electronic RPM-based butterfly movement. This allows for the elimination of vacuum-operated fluttering as the movements are electronically calculated and allow for the movement with the help of an integrated electronic servo motor.
Addition of a K&N high flow filter which helps for increased airflow into the engine.
An internal Stinger design maximizes airflow to the throttle body, which then maximizes the power output thanks to the increased amount of airflow.
We have made a detailed review of the Kuryakyn Hyperchargers, in that article we have covered three products, you can read that and can pick anyone you like.
Setting up your Hypercharger
Most hyperchargers are easy to install on your own, as they come with a kit that includes the instructions to install it on your own.
However, this process includes rejecting your carburetor, with a lot of users recommending changing the exhaust pipes with options available in the after-market.
We would recommend you get your hyper charger installed professionally by an authorized dealer or a mechanic who has the qualification to complete the job as they will ensure the hypercharger is set up well enough to get the most performance boost out of your motorcycle.
— Also read: Fuelpak FP3 Review (Best Selling ECU Tuner with 1230+ Reviews)
Benefits of installing a hypercharger
Installing a hypercharger without any other modifications can give you a rear-wheel power boost of 7 to 9 bhp.
Combining it with a good exhaust system and a recalibration kit for your carburetor, with the expertise of a qualified mechanic or authorized dealer, can get you a power boost of upto 14 bhp
Most hyperchargers, especially those from Kuryakyn, come with a chrome finish. Other options include black and chrome-black hybrid color schemes. This helps the hypercharger gel in well with the aesthetic of cruiser motorcycles like the Harley-Davidson, adding that extra bit of glamour to your motorcycle.
The hypercharger is usually a modular fit made of high-grade quality materials like A380 aluminum. This helps not only with the aesthetic but also ensures good performance and durability from your hypercharger.
Drawbacks of a hypercharger
A hypercharger is an after-market part that requires its air intake to be mounted on the side. As a result, the hypercharger takes up more space on the side. This means riders usually feel some discomfort on their right leg when it comes to positioning.
Highway cruising is usually not a problem as the highway pegs do not get interfered with. In other situations, the legends up resting on the housing of the hypercharger, which may not be the most comfortable
At low speeds, the airspeed is not high enough for the hypercharger to impact the performance by much. This is because of the working principle of the hypercharger, which primarily depends on the differential air pressure to create more pressure on the intake side of the motorcycle.
As a result, it can fall short of performance boosts at low speeds as compared to turbochargers, which forcefully inducts the air into the engine.
While hyperchargers offer great future savings when it comes to fuel-efficiency, the primary purpose is to increase the performance and give an increased power output. However, hyperchargers give a marginal increase in performance and might feel like an expensive after-market upgrade that does not meet expectations.
Conclusion
Hyperchargers are an after-market product that helps enhance the performance of cruiser motorcycles like Harley-Davidson. These are air filters that increase the air pressure on the intake side when the motorcycle is in motion.
In this article which sought to answer the popular question: What is a hypercharger? We uncovered a few features that make a hypercharger a product to look at for those looking to improve performance in a stylish and elegant manner.
This was done by the stylish chrome plating, made of durable materials like A380 aluminum. Brands like Kuryakyn offer such products while ensuring great performance.
This is achieved thanks to advanced technology like electronically integrated servo motors to control the butterfly mechanism and design elements that help the directional flow of air directly to the throttle body.
Performance-wise, they offer a marginal boost in horsepower. This ranges from 7-14 horsepower, depending on your exhaust pipes and set up preferences. While your hypercharger can be installed on your own, we would recommend you install it with the help of a qualified mechanic or an authorized dealer.
The flip side of hyperchargers is the rather high price, considering the marginal increase in performance. It also extends into the side for the intake, which means riders have to adjust their foot positions.
Another drawback of hyperchargers is the ineffectiveness of the product at low speeds, which makes it ideal for those who go on long cruise rides on highways. In the end, hyperchargers are a great option for those looking to maintain or improve the aesthetic appeal of their cruiser motorcycle, while gaining a performance boost as well.
If you are into gaining more performance, then you may want to look at other options like custom kits designed with pod filters and rejet kits, which would also cost a lot less than hyperchargers.
With this, we hope you have had a satisfactory answer to the question; we also hope this article has helped you make up your mind about whether the hypercharger was the performance-boosting after-market product you have been looking for all this while.