When you speak of the word Marvel, it's not just a name; it's an emotion. Marvel has got its own superhero universe, and the world marvels over it.
Wherever you go, you can find Marvel fans, and these fans love to have Marvel-inspired accessories and products. Now, when it comes to helmets, this all just gets a wholly different significance.
Marvel superheroes symbolize risk, adventure, power, heroism, etc., all of which are the qualities that bikers relate to on highly significant levels. So, they love to add some Marvel-designed motorcycle helmets to their collection.
However, while the design is a requirement, factors like safety, protection, durability, comfort, and convenience of the helmets are also a prerequisite. Considering this, it can be really a difficult job to find the perfect Marvel helmet.
Well, lucky for you, we've made the task easier by compiling a list of the five best Marvel Motorcycle Helmets (DOT-certified) to narrow down your choices and help you order the perfect helmet for your likings.
Best Marvel Motorcycle Helmets (DOT Certified)
Marvel-inspired products and accessories are no new talk in the town. People love such products, and there would be nothing wrong in mentioning that bikers would love to wear helmets with a strong and powerful superhero painted on them.
Not only will these helmets offer protection, but they'll also bring a lot of attention, and every person looking at these helmets will drop their jaws in awe.
However, the question is, what's the best Marvel Motorcycle helmet worth a purchase? Well, here, you're going to have a look at five of them.
So, let's get to the reviews and bring you closer to placing your order for a stylish, cool, and quirky helmet.
1. HJC CS15 (SPIDERMAN HOMECOMING)
If you're a Spiderman fan, then you're going to love this HJC CS15 helmet designed to give you the face of Spiderman with its fantastic Spiderman Homecoming design.
The shell of this helmet is made with polycarbonate material which is very strong and durable. So, the helmet is safe and protective for its construction. This fact is also well established by its SHARP rating and ECE and Snell certification.
For the inner linings, it has a very comfortable, soft-touch Nylax fabric, which is also removable and washable.
So, you'll never feel even the slightest discomfort wearing this helmet. What adds to the comfort is the excellent ventilation system with a single chin vent that passes air all through the helmet, ensuring a stable and consistent airflow.
Coming around the shield, it's built decently with a quick-release system and comes with anti-fog treatment.
However, that doesn't mean that the helmet is entirely anti-fog, so that's something you need to look through because although it is pin lock ready, it doesn't come along with the helmet, and you need to get it separately.
So, that raises questions on the clarity of vision in misty and windy weather. Overall, it's a good entry-level helmet that you'll love adding to your biking gear, especially if you are a beginner.
Pros
Strong and durable with polycarbonate build
Excellent ventilation
Soft-touch fabric for inner lining makes the helmet comfortable to wear
It's low-priced and highly affordable
Cons
The shield lacks anti-fog coating
2. HJC I70 (Flash) Motorcycle Helmet
If you love the speed of the flash, how about having a Flash design, full-face motorcycle helmet? This HJC I70 will fulfill this wish of yours at best.
With an attention-grabbing Marvel superhero design and graphics, this helmet is also highly protective and feature-rich. It has a polycarbonate build that makes it highly strong, durable, and lightweight. That gives in to the comfort and convenience of wearing this helmet.
Adding to the comfort is the soft and padded inner lining of the helmet that is moisture-wicking and sweat resistant. So, you remain dry and cool wearing this helmet.
Moreover, the ventilation system of the helmet is also amazing, with seven vents for taking in the air and two vents for the exhaust.
Additionally, all these vents are adjustable with a simple hand slider. So, there's brilliant airflow in the helmet.
The shield is also pretty great and protective with a pin lock ready, anti-fog technology that keeps fog, dirt, dust, mist, and every other obstacle in your clear vision away. Moreover, the shields are replaceable, so you can choose the one you find best.
The only possible issue with the helmet could be the noise. It's not entirely noise-free; however, the noise is still average, so you could probably do with it, especially when you use some good-quality earplugs.
Pros
Lightweight, strong, and durable helmet.
Excellent ventilation with multiple and adjustable vents.
Replaceable shields with anti-fog technology.
Comfortable inner lining with moisture-wicking features.
Cons
It's not an entirely noise-free helmet.
3. Matrix Street FX Pro (Spider Man, DeadPool, Venom, etc.)
This helmet is a class apart in its style and design and what makes it better is the custom graphics you could get done on it from suppliers like Blaze Artworks.
The helmet is made using a very durable and lightweight fiberglass material shell. Additionally, it uses a very soft, moisture-wicking fabric for the inner lining of the helmet. This kind of material build makes this helmet extremely safe and comfortable.
The ventilation system of this helmet is also amazing, with four different air inlets at the top that ensure consistent airflow throughout the helmet.
Additionally, it comes with a very amazing shield and visor, which is scratch-free and coated with polycarbonate. Additionally, you can choose to have the tinted visor too with this clear and anti-scratch visor.
With all of this, it's an amazing helmet for the picks, especially when you can have them custom designed. You can look through the works of Blaze Artworks, where they've showcased multiple Marvel design motorcycle helmets.
Not only that, you can see other designs as well, and have any custom design painted on your helmet as per your likings.
Pros
Lightweight and durable
Fantastic ventilation
Moisture-wicking interiors
Scratch-free visor
Excellent custom design that makes the helmet look like a real superhero mask
Cons
It could come off as a little costly in comparison to similar helmets.
4. TORC T27B1 Modular Helmet
With a compact and lightweight build using the thermoplastic alloy material, this helmet is very sturdy in its look and comfortable in its wear. Adding to the comfort and convenience is the comfortable padding with EPS liner.
The visor of the helmet is also amazing, with features like scratch resistance and fog resistance.
Also, the visor is clear, so you get total optical clarity in the vision. Moreover, the visor is highly adjustable with a simple drop-down motion, so you don't have to stop your bike to adjust the visor and can do it all easily without even wobbling on your bike as you ride it.
The ventilation system of this helmet is also excellent, with the chin, top, and exhaust vents that all function to keep the hot air out of your helmet and make sure that you're cool and dry inside the helmet.
To top it all off, the helmet is very safe and protective with the necessary ECE and DOT certifications.
That's not all yet. The major highlight of this helmet is the Bluetooth connectivity that allows you to receive calls and even listen to music while on the go. This is a feature that you hardly ever get in a mid-range helmet.
With all of these things, this is a helmet with all good and no flaws at all.
Pros
DOT and ECE certified, which is a mark of safety and protection
Excellent ventilation system for consistent airflow
Adjustable visor with clear optical vision
Bluetooth connectivity features
Lightweight and comfortable build with strong shell and EPS lining
Cons
It becomes quite noisy in harsh weather conditions.
5. HJC RPHA-11 PRO (Captain America & Venom 2)
With multiple Marvel designs, the HJC RPHA-11 Pro helmet is becoming extremely popular among bikers. It is made of highly strong and durable material for the shell, and while it may have scored low on the SHARP rating, it's still a safe helmet to carry.
The ventilation of the helmet is pretty good, considering that it has multiple vents for the chin and forehead. Not only that, it even has exhaust vents on its back. With that, you can expect a very convenient and comfortable airflow throughout your head.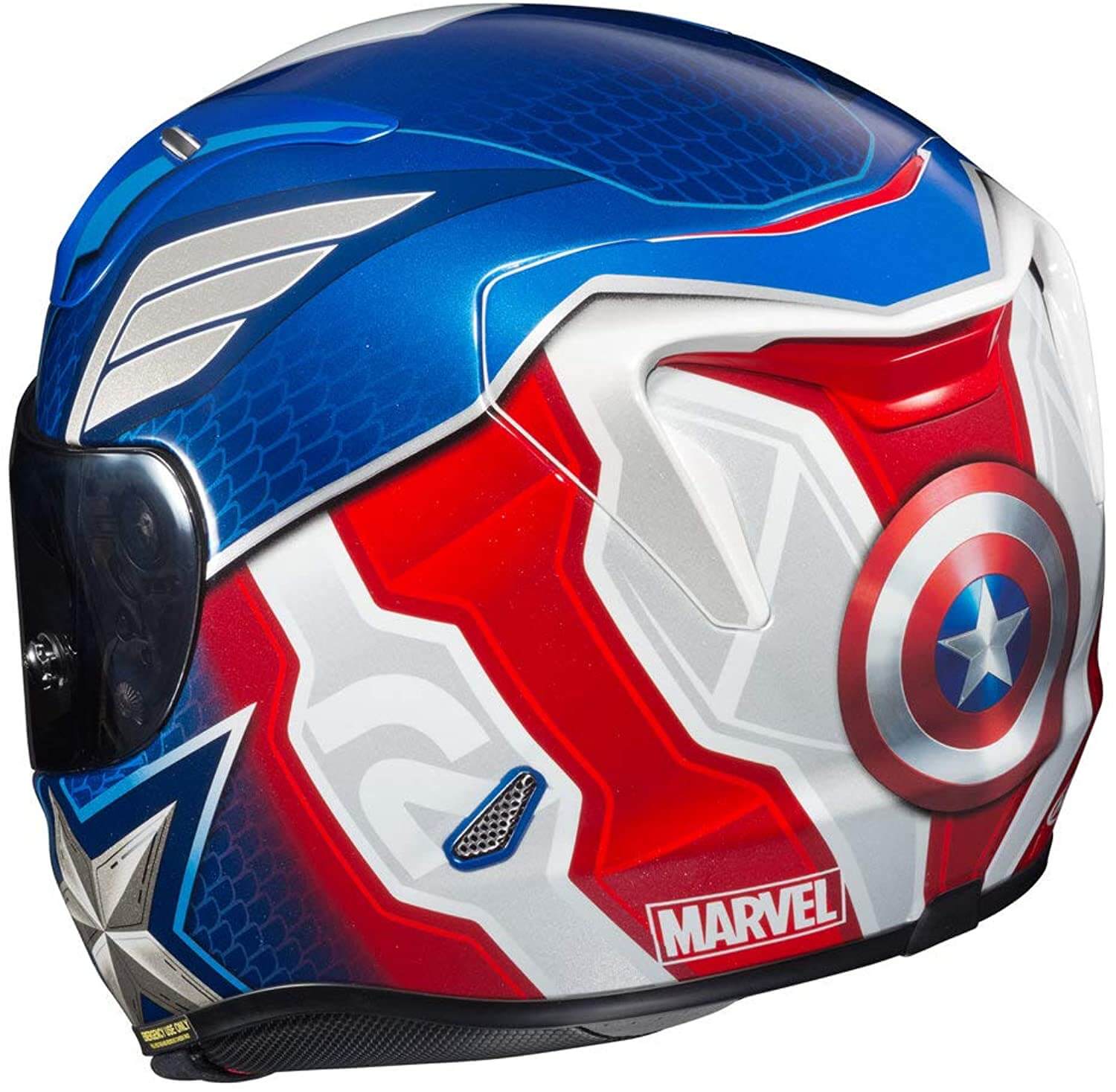 Coming to the shield, you have multiple options. The helmet has a clear vision as well as a tinted shield. Moreover, the shield has a pin lock, anti-fog technology that makes sure of clear vision even in windy and misty weather conditions.
Additionally, the shield aperture is pretty wide, so you can have a much wider range of vision when wearing this helmet.
The best part yet is the availability of designs and graphics for this helmet. This particular HJC helmet has multiple Marvel designs for its entire series, and you can check them out on their official website.
So, if you are a Marvel fan, then this RPHA series of HJC helmets is something you're going to fall in love with.
Pros
Excellent ventilation with multiple vents in the top, chin, and rear
Lightweight and comfortable with amazing material build and inner lining
Multiple shields with high-end features for optical clarity
Multiple designs and graphics to choose from
Cons
It is not a very affordable helmet when it comes to pricing
6. Marvel Legends Iron Man Electronic Helmet (Special Mention)
Although it's not a motorcycle helmet, Marvel Legends Iron Man Electronic Helmet deserves a special mention on our list.
It is designed to look perfectly like the mask of Iron Man, and when combined with the Iron Man suit, you'll perfectly donne the appearance of the Iron Man for real.
It has got LED lights for the eyes and electronic sound effects. Moreover, it has a detachable magnetized faceplate that you can remove in case you want more airflow and convenience.
Additionally, it's lightweight, so you need not worry about the helmet being heavy on your head. You can wear it, and you'll feel like it's not even there. So, you never have to worry about the comfort of this helmet.
Moreover, the premium finishing and detailing for the helmet makes it look extremely real. Additionally, there are other superhero designs you can find too. With all those designs, you and your entire group of Marvel fans can build your own Marvel universe.
The only downside in this helmet seems to be that it runs on 3AAA batteries, and you need to purchase them separately. Moreover, you need to make that purchase over and over every time the battery goes down.
Another thing is that it's not a motorcycle helmet, so you can only add it to your collection. But if you think you'll go biking with it, then you cannot do that, because all this helmet is at the most is a toy.
Pros
LED lights for eyes
Electronic audio effects
Excellent finishing and detailing for the design
Magnetized and removable faceplate
Cons
Not a real helmet
The batteries are not included, and you need to purchase them separately
Final Words
Marvel is not just a name. It's an emotion, and people love having Marvel toys, accessories, products, or anything for that matter in their collection.
For bikers, Marvel helmets can hold a special significance in terms of their style and features. These Marvel superhero-designed helmets symbolize courage, heroism, and risk-taking attitude. The bikers relate to these characteristics a lot.
Moreover, such designer helmets grab a lot of attention, and that feels good, especially when you're in a biking event or racing competition.
With all that said, we're glad to present you with our list of the Best Marvel Motorcycle Helmet. We hope this review helps you, and you're all set to place an order for your favorite Marvel design helmet to add to your proud collection of biking gears and accessories.
Happy Riding!
Also read: